FP Mailing Mymail Franking Machine Review – By Mailcoms
The Mymail franking machine is the ideal machine for any business that is setting up and are small in size. By using this machine you can use lower Royal Mail franking prices and improve the look of your business. This model, manufactured by FP Mailing, is an entry level franking machine. It is is recommended to frank up to 30 items of mail per day, based on our own experience with a similar model.
FP Mailing Mymail Franking Machine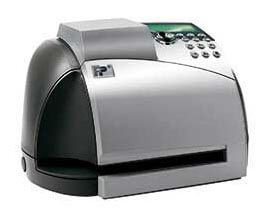 The FP Mailing Mymail franking machine comes with a wide range of franking machine features, all of which can benefit your business. As an entry level franking machine, the Mymail is limited with its features, but it is still a very good franking machine for any smaller sized business.
You can use a weighing platform of 2 Kg with the Mymail franking machine, and this will help eliminate the possibility of miss paying for your mail. Calculating the price of your mail could not be easier. Reach a top franking speed of 15 letters per minute when using a manual feeding system that comes as standard with this entry level machine.
Other features that come with this model are various advertisements that will help you expand your business name and attract your customers before mail is even opened. You can also use the latest smart meter technology with the FP Mailing Mymail franking machine. This allows you to frank in smart blue and use all of Royal Mail's VAT services.
However unlike other machines in its class, the Mymail does not come with Mailmark technology. This means that you cannot benefit from even lower franking prices or a new 2D barcode impression when using this franking machine. Receive a franking machine quote or a Mailmark Quote here if you want to benefit from the new Mailmark initiative.
View our range of FP Mailing Mymail Franking Machine Supplies here.
Purchase FP Mailing Mymail Franking Ink here.
Mymail Specifications
View the specifications of the FP Mailing Mymail Franking Machine below.
Speed:

15 LPM

Feeding System:

Manual Feeding

Weigh Platform:

2 Kg scale

Max. Envelope thickness:

6mm

Connectivity:

LAN or Analogue

Print:

Inkjet Printing

Adverts:

3

Franking Machine Colour:

Silver

Departmental Accounts:

3 as standard

PIN Protection:

Yes

Smart Meter Enabled:

Yes

Mailmark Compatible:

Yes
Mymail Dimensions
View the dimensions of the FP Mailing Mymail franking machine below.
Length of machine:

300mm

Height of machine:

183mm

Depth of machine:

194mm

Weight of machine:

2.5 Kg