Play the video to find out much more about Mailcoms…
Not only is Mailcoms Ltd a Royal Mail Authorised Independent Inspector & Maintainer of Franking Machines but we're also one of only 2 companies in the UK to have our own franking machine ink approved by the Royal Mail.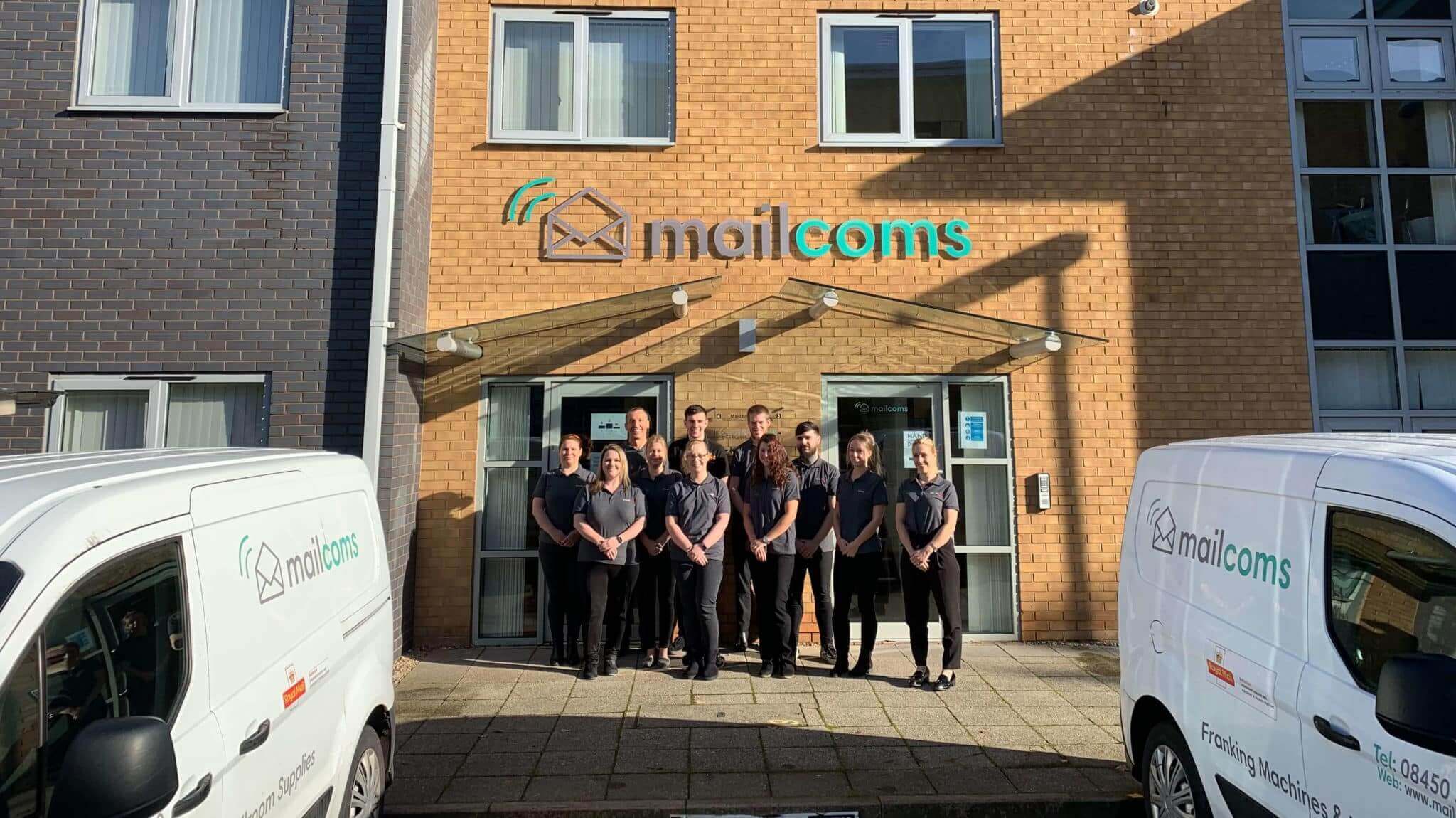 From left to right; Clare Maher, Sarah Hollings, Des McManus, Nicky McManus, Stephanie Hill, Dan Bate, Maria Christoforou, Corey Mansell, Liam Farr, Rebecca Neale, Gemma Bond.
Mailcoms was started back in 2005 from a converted garage at the family home in Cannock, Staffordshire. The industry had been dominated by two main manufacturers and the Office of fair Trading and the Royal Mail were looking to offer more choice to customers for both service and sales of equipment and franking machine supplies. This seemed like perfect timing for Mailcoms who's directors spent years listening to customers and had a vision of offering low running cost alternative franking machines without the need for using sales people who can often put many customers off.
This unique new direction used modern technology to market products and spread the word and has since resulted in Mailcoms being one of the largest Independent franking machine suppliers in the UK.
In 2008 Mailcoms were awarded the accolade of Royal Mail™ Authorised Independent Inspector & Maintainers of postal franking machines. This is an accreditation only shared with a handful of other companies across the UK. A major key point of this award was our attention to detail in dealing with service issues which is vitally important when servicing equipment that essentially prints money.
In 2012 Mailcoms were also one of only two companies in the UK to have their own brand of franking inks approved by the Royal Mail. Mailcoms Ltd was also the first company in the UK to offer refilling/recycling of franking machine ink cartridges and now the largest online retailer of franking machine supplies for all brands of equipment. With over 15,000 customers from small businesses to some of the largest corporate organisations in the UK, Mailcoms has now grown to an annual turnover of nearly two million pounds and employs nearly 20 staff.
Following humble beginnings in the family home Mailcoms made the big step into acquiring purpose built premises at an investment of over £500,000 and moved in at the end of 2011. These new premises enabled the business to be contained on a single site with larger storage facilities to hold more stock and ordered extensive administration and service facilities to enable us to continue being one of the premier franking machine distributors and service agents in the UK. The new building also included a purpose built ink cartridge remanufacturing centre to further enhance ink cartridge production and the recycling/refilling program.
Mailcoms prides itself on a more personal level of customer service and are proud of some of the kind words left on our testimonial page.