Neopost IS-350c Smart Franking Machine
The Neopost IS-350c smart franking machine is a capable and quick machine that is perfectly designed for smaller mail loads. Process up to 40 letters per minute via its pass through feeding system whilst also benefiting from the latest franking technologies. Help ensure your mail looks more professional with the IS-350c model.
Neopost IS-350c Smart Franking Machine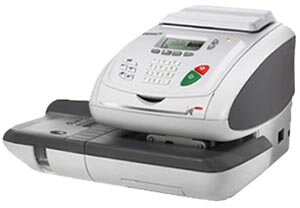 Calculating the exact postage every time with the IS-350c smart franking machine is easier to complete than ever as an integrated postage scale will help ensure accurate weighing. Eliminate the risk of miss paying for a mail item and use it's 3 Kg weighing scale to your advantage.
The latest Mailmark technology is also available to use in the IS-350c smart franking machine, allowing businesses to benefit been further from franking mail. Use a new 2D barcode to improve the look of your mail, benefit from the lowest franking prices and track mail with Mailmark. This is a new piece of technology which can help many businesses benefit even more from franking.
View our wide range of Neopost IS350c franking machine supplies here.
Smart Meter Technology
The latest smart meter technology comes as standard with the Neopost IS350c smart franking machine, meaning that businesses will be able to access and use all Royal Mail VAT services. Not only this, but smart meter allows the IS-350c to frank mail in smart blue franking ink, improving the readability of the franked impression. Find out more about smart franking machines here.
Neopost IS-350c Specifications
View the latest and most up to date specifications for the Neopost IS-350c smart franking machine here.
Speed:

40 franks per minute

Envelope Feeding System:

Pass Through

Weighing Scales:

3 Kg

Connectivity:

LAN

Max. Envelope Thickness:

9mm

Job Memories:

Yes, 15

Advertisements:

Yes, 8

Departmental Accounts:

Yes, 10 or 100

PIN Security:

Yes

Smart Meter Technology:

Yes

Mailmark Technology:

Yes

Differential Weighing:

Optional

Length:

357mm

Depth:

375mm

Height:

260mm
View our range of franking machines here and receive instant quotes for a similar model to the Neopost IS-350c.