What Are The Mailmark Prices 2017 – Guide By Mailcoms
If you are using a Mailmark compliant franking machine then you can save even more money when franking mail in 2017. The Mailmark Prices 2017 have been announced by Royal Mail and they can now be used by businesses with a Mailmark franking machine.
Mailmark Prices 2017
You should be aware of the Mailmark franking technology that can now be used in many modern franking machines in the UK. It is advised that you upgrade your franking machine to become Mailmark compliant. On the 27th March 2017 the new rates will be in effect and you will be using the Royal Mail 2017 Postage Rates.
Mailmark is used by many UK businesses already and it is gaining more and more interest by the week. Mailmark provides users with even lower prices in comparison to the regular franking impression and stamps. It also offers many extras and benefits.
Compare the Mailmark Prices 2017 against the stamp prices 2017 and see how much you can save.
1st Class
2nd Class
Size
Weight up to and including
Stamp Prices
Mailmark™ Prices
Stamp Prices
Mailmark™ Prices
Letter
100g
65p
55p
56p
38p
Large Letter
100g
98p
85p
76p
65p
250g
£1.30
£1.19
£1.22
91p
500g
£1.74
£1.58
£1.58
£1.22
750g
£2.52
£2.23
£2.14
£1.72
Small Parcel
1kg
£3.40
£3.12
£2.90
£2.62
2kg
£5.50
£5.22
£2.90
£2.62
Medium Parcel
1kg
£5.70
£4.87
£5.00
£4.52
2kg
£8.95
£7.57
£5.00
£4.52
5kg
£15.85
£15.85
£13.75
£13.75
10kg
£21.90
£21.90
£20.25
£20.25
20kg
£33.40
£33.40
£28.55
£28.55
As you can see, Mailmark users will save even more money when they are franking mail items. The savings that can be made are even greater. For example, 18p can be saved on every 2nd Class Stamp for a standard letter.
To see the Mailmark Prices more clearly, download our 2017 Wall Poster PDF here.
Mailmark Franking Machines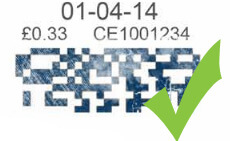 Mailmark franking machines that are compatible and ready to use this great new service will produce a new 2D barcode franking impression (as seen by the image above). This will give businesses exclusive access to all the Mailmark benefits and extras such as the lower franking prices, an improved business image and more.
View our franking machines here and receive a Mailmark franking machine quote today.