FP Mailing Qi3000 Franking Machine – Guide By Mailcoms
The FP Mailing Qi3000 franking machine is one of the newer models released by FP Mailing. This machine, like the Qi1000 and Qi2000, is highly advanced and fully capable of franking all your mail with tremendous ease. Use a variety of features and functions with this high volume machine and see how useful this machine is. Save money and expand your business name with the Qi3000 machine today.
FP Mailing Qi3000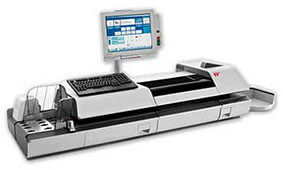 The Francotyp Postalia / FP Mailing Qi3000 model comes with a full colour touch screen that will enable you to frank with ease. This intuitive and easy to use touchscreen requires no training and is simple and clear to use. As well as this, the Qi3000 postage machine comes with a wide choice of weighing platforms. This will allow you to eliminate the possibility of over or under paying for your mail items and help ensure that you apply the correct postage price.
Heavy Duty Franking Machine (speed of up to 260 letters per minute)
This heavy duty franking machine is perfectly suited for any business sending well over 1000 mail items per day. Coming with an incredible franking speed of 260 letters per minute, or a slightly slower speed available with dynamic weighing, the FP Mailing Qi3000 machine will frank your mail cleanly and crisply every time. Help ensure that you always keep on top of your mail loads and send out all your mail every day with the Qi3000 machine.
Receive a low cost Mailmark Quote for a similar machine here.
Receive a low cost Franking Machine Quote here.
FP Mailing Qi3000 Specifications
View the specifications to the FP Mailing Qi3000 Franking Machine here.
Speed: 260 letters per minute
Dynamic Weighing Speed: 140 Letters per minute
Weighing Scale: 3, 5, 10 or 30 Kg scales available
Feeding System: Automatic
Label Dispenser: Automatic
Max. Envelope Thickness: 20mm
Connection Method: LAN Connection
Job Memories: 15
Advertisements: 8
Colour Touch Screen: Yes
PIN Security: Yes
Smart Meter Enabled: Yes
Mailmark Compliant: Yes
Barcode Scanner: Optional