Neopost SI-68 Folding Inserting Machine – Guide By Mailcoms
All businesses should know that outgoing mail is key to you and a folding inserting machine similar to the Neopost SI-68 can be perfect for handling outgoing mail better and more effectively. The SI-68 is a perfect solution and is quiet, compact and easy to use. Designed to fit smoothly into any office building, the Neopost SI-68 can benefit almost any business.
Neopost SI-68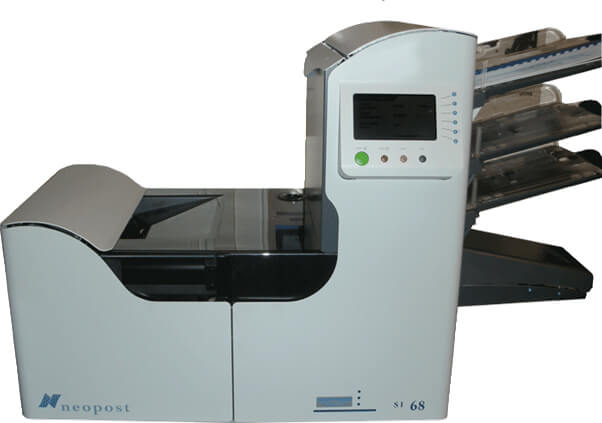 Operating this machine is easy and with an exclusive Load N' Go feature operation is simple. Settings such as fold type, fold length and double document detection are automatically set up for easy use. Simply load your mail and touch a button to use. 9 job memories also come with the SI-68 as standard and this can give quick and easy access to most commonly used jobs.
The Neopost SI-68 also allows a range of documents to be processed. Coming with three separate feeders, documents ranging from invoices, envelopes and flyers can be processed. Each feeder is also multi-functional and can automatically adjust itself to operate as both non-fold and fold options. The feeders that come with the Neopost SI-68 can handle large amounts of documents including up to 250 envelopes and 325 sheets.
Low Volume Folding Inserting Machine (speed of up to 2,500 letters per hour)
The Neopost SI-68 folder inserter is one of the many low volume machines currently on the market. It has a top speed of 2,500 letters an hour and based on our experience with a similar machine this is a low volume model. It is recommended for businesses to process up to 45,000 documents a month. This is much faster and efficient than any member of staff being very beneficial.
View our range of Neopost envelopes here.
View our range of Neopost SI-68 envelopes here.
Neopost SI-68 Specifications
View the specifications for the Neopost SI-68 folding inserting machine here.
Speed:

2,500 cycles per hour

Speed:

45,000 cycles per month

Fold types:

Single Fold, Zigzag Fold, Double-Parallel Fold

Job Memories:

9

Feeders:

Up to 3

Combined Staking Capacity:

975 documents

Document Feeder Capacity:

325 Sheets

Envelope Capacity:

250 Envelopes

FlexFeed:

Yes

Catch Tray:

Yes

Conveyor Stacker:

Optional

Optical Mark Recognition:

Optional

Dimensions:

Width: 16.5″ – 25″, Length: 29.5″ – 63″ (Depending on Options)
Would you like a alternative folding inserting machine from Mailcoms? If so view our range of folding inserting machines here.