Frama Matrix F82 Franking Machine Review – By Mailcoms
The Matrix F82 franking machine was designed for reliability and efficiency. This model machine was purposely designed for Mailmark 2014 and along with 5 other franking machines, the Matrix F82 machine was one of the first models to become Mailmark. This brand new service by Royal Mail enables you to use lower franking prices and benefit from using a 2D barcode frank.
Frama Matrix F82 Franking Machine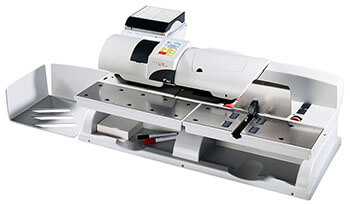 Based on our experience with a similar machine, the Frama Matrix F82 franking machine is perfectly suited for any business franking up to 800 mail items per day. As this Frama model comes with a fully automatic feeding system, you will be capable of franking up to 140 letters per minute when in full operation. This high volume franker is perfect for many large businesses.
The Matrix F82 franking machine is incredible easy to use. You can use a full colour touch screen with ease as it comes with clear guides and prompts. You can also use up to 36 one touch buttons that aid the franking process immensely. As well as this, the Matrix F82 can frank mail items up to 10mm thick and if your items are larger than this you can use the label dispenser that comes with this franking machine.
Other features that come with this franking machine include 250 departmental accounts to allow you to keep on top of your postage funds, a integrated choice of weighing scales to help you eliminate the chance of over payment and various adverts to expand your business name. If you would like a franking machine quote for a similar franking machine to the Frama Matrix F82, then view our range of Mailcoms Franking Machines here.
Matrix F82 Specifications
View the specifications of the Matrix F82 Franking Machine below.
Speed:

140 LPM

Feeding System:

Automatic Feeding

Weigh Platform:

5 or 30 Kg scales

Max. Envelope thickness:

10mm

OneTouch Functions:

36

Connectivity:

LAN Connection

Adverts:

20

Departmental Accounts:

150 as standard, 250 optional

PIN Protection:

Yes

Label Dispenser:

Yes

Smart Meter Enabled:

Yes

Mailmark Compatible:

Yes
Matrix F82 Dimensions
View the dimensions of the Matrix F82 franking machine below.
Length of machine:

1122mm

Height of machine:

333mm

Weight of machine:

19.2 Kg