FP Mailing Postbase Qi4 Franking Machine Information
To make franking as easy as possible for customers the FP Mailing Postbase Qi4 was developed by customers. Coming with one touch buttons and a colour 4.7″ touchscreen, this franking machine can frank mail at the touch of a button. This machine was designed for small to medium sized mail loads based on our experience with a similar model.
FP Mailing Postbase Qi4 Franking Machine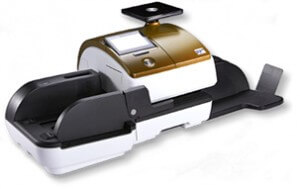 The FP Mailing Postbase Qi4 franking machine can use the latest smart meter technology when franking. This means that smart blue ink will be used to help improve the look and delivery speed of your mail. Smart Meter technology uses data capture to monitor any VAT services that you use. Once used you can receive money back for any paid VAT being very useful.
When franking your mail a pass through feeder can be used. This will allows speeds reaching 45 letters per minute to be used. Based on our experience with similar models this machine is designed for volumes up to 200 items per day. The Postbase Qi4 possesses a wide range of other features which include: an integrated weighing scale, various adverts, connectivity to a LAN and more.
View our range of FP Mailing Postbase Qi4 franking machine supplies here.
Mailmark Compatibility
Mailmark franking technology has only been around for a year but its popularity is growing and the Postbase Qi4 is one franking machine that can use this great franking technology. Built with the future of Royal Mail in mind, this model can frank a 2D barcode onto every mail item and ensure all businesses benefit from its features and added extras. Find out about Mailmark here.
Postbase Qi4 Specifications
View the key specifications of the FP Mailing Postbase Qi4 franking machine below.
Speed:

45 Letters per Minute

Hourly Speed:

2700 Letters per Hour

Feeding System:

Pass Through

Weighing Scales:

3, 5, 7 or 30 Kg available

Connectivity:

LAN

Max. Envelope thickness:

10mm

Colour Touch Screen:

Yes, 4.7″

Advertisements:

20

Departmental Accounts:

10 available

PIN Security:

Yes

Smart Meter Technology:

Yes

Mailmark Technology:

Yes
If you would like a franking machine similar to the FP Mailing Postbase Qi4 then view our range of franking machines here.