Postage Stamp – Guide By Mailcoms
Postage Stamp
A postage stamp is a small piece of paper that is brought and displayed on an item of mail. If you want to send mail via the Royal Mail, you require a postage stamp or a frank. This is a form of payment of which the Royal Mail uses as evidence for paid postage. Stamps are purchased from a postal administration office and are used to pay for the movement of your mail.
There are may types of stamps that can be bought so that you can send mail at different speeds, send mail from or to different areas of the world or to send different items of mail, e.g. a newspaper. Some of these stamps include: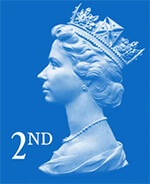 First Class
Second Class
Aimail
Military
Special Delivery
Definitive
Newspaper
Postage Stamp History
Postage Stamps have been used to send mail since the 1840s. Before the invention of stamps, ink, and something called a hand-stamp, was the usual way to send mail and confirm the postage payment.The very first stamp issued was called the Penny Black, and this stamp was created to help improve the postal system in the UK. This was the first ever stamp created, and it was created by Sir Rowland Hill.
The Two Pence Blue soon followed the Penny Black two days later. Both stamps had the Queens head printed on them, and the UK are still the only country in the world to not put the country name on their stamp today. Following the stamps creation, many other countries around the world followed and started to use postage stamps to send mail.
Postage Stamp Prices 2014
The Postage Stamp and Frank prices for 2014 have recently been released by the Royal Mail for 2014. Every year a new set of prices are released, and this year is no different. Click on the links below to view the various Postage Rates for 2014.
CLICK HERE to view the full postage rates list for 2014.
CLICK HERE to view our very own wall poster for the postage rates 2014.
CLICK HERE for a list of the first class postage rates 2014.
CLICK HERE for a list of the second class postage rates 2014.
Save Money!
An alternative way to send mail is by using a franking machine to frank your mail. Franks are far cheaper than stamps and will save all businesses money. Here at Mailcoms we can offer you low cost franking machines at affordable prices. For a full list of our Smart and Mailmark franking machines & a low cost franking machine quote, please CLICK HERE.
Share This On Social Media