Pitney Bowes DM1000 Franking Machine – Guide By Mailcoms
Pitney Bowes DM1000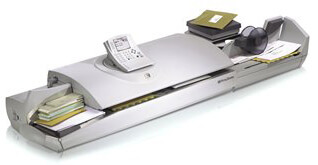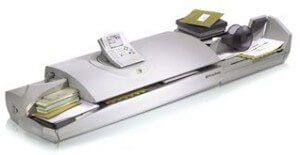 High Volume (speed of up to 260 franks per minute)
The Pitney Bowes DM1000 franking machine is one of the highest volume machines released by Pitney Bowes. With speeds of up to 260 franks a minute, this machine will frank mail quickly and cleanly for any business. This easy to use and reliable franking machine will also deliver very high productivity levels for your business that will help meet your specific needs. Help improve your mailing operation by using the Pitney Bowes DM1000 machine and be efficient with your mail.
Use the Pitney Bowes DM1000 to gain access to a wide range of Royal Mail services and pay much less to send your mail. Not only this, but this franking machine allows you to take advantage of differential weighing. This unique feature allows your business to process mixed weight mail items in one whole batch, using its scale. The franking machine will then calculate the franking cost of each mail item, when each item of mail is removed.
This franking machine is currently not Mailmark compliant, and so you should not buy this franking machine if you want to take advantage of the new Mailmark service. Get a low cost Mailmark Franking Machine Quote for a similar machine here.
Get low cost Pitney Bowes DM1000 Franking Machine Supplies here.
Get a low cost Franking Machine Quote for a similar machine here.
Pitney Bowes DM1000 Specifications
Speed: 260 letter per minute
Feed Method: Automatic
Scale: 7KG, 12KG or 35KG scales available
Max. envelope thickness: 19mm
Connection Method: LAN or Telephone connection
Differential Weighing Option: Optional
Envelope Size: DL, C5 & C4
Dimensions: H: 610mm, W: 1750mm, D: 530mm, Weight: 68KG
Electrical: 100/240vac, 60Hz, 0.65-0.3A
Smart Meter Enabled: Yes
Mailmark Compatible: No
Pitney Bowes DM1000 Running Costs
Ink: £89.95 for 40,000 prints
Franking Labels: £19.95
Franking Label Rolls: £39.95