Neopost IS6000 Franking Machine Overview
The Neopost IS6000 franking machine is a heavy duty model that is perfect for any business sending out large volumes of mail. If your business sends out over 1000 mail items everyday then a machine like the IS6000 may be just for you. This machine is recommended to frank over 1000 items per day based on our experience with similar machines.
Neopost IS6000 Franking Machine Features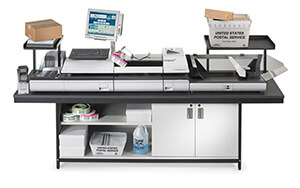 This heavy duty machine comes with a massive range of features that will be very beneficial for users. The features included with the IS6000 range from the latest technologies to an incredibly fast feeding system. View some of its main features below.
Weighing Platforms
One feature that comes as standard with the Neopost IS6000 franking machine is a weighing platform. Similar to other high volume machines, the IS6000 gives you various options for your scale. Choose from either a 3, 5, 10 or 30 Kg weighing platform to best suit your businesses needs.
Feeding System
A second feature present in this heavy duty franking machine is a fully automatic feeding system. This allows users to frank mail at an incredible speed reaching 260 letters per minute. A slower speed of 140 letters per minute can also be reached if you wish to use the dynamic weighing speed feature. This feature enables this model to frank at such a fast rate.
Mailmark Ready
This heavy duty franking machine also comes with the latest Mailmark technology making this a Mailmark ready model. Mailmark is a new initiative by Royal Mail that enables businesses to benefit even more from franking. Use the IS6000 machine to gain access to lower franking prices, a new 2D barcode impression and constant tracking of your mail.
Accounting Feature
An accounting feature is included as standard with the IS6000 machine allowing you to monitor and control who uses your franking machine. Have up to 500 departmental accounts on this machine to help your business monitor and track where postage expenditure has been used. PIN code protection of these accounts is also available for better security of this machine.
Job Memories
One final feature that comes with this model as standard are various job memories. To make the franking process much easier the Neopost IS6000 franking machine allows you to store job memories so your commonly used jobs can be stored for quick and easy access at the touch of a button. Use up to 15 job memories / presets with this heavy duty model and improve the franking process.
Save money when buying a similar franking machine to the Neopost IS6000 with Mailcoms. View our range of franking machines here and get a quick quote today.