Neopost IS350c Postage Franking Machine
Neopost, one of the largest suppliers of franking machines, can currently offer UK businesses with a range of franking machines that will benefit any business. One model that they can offer is their IS350c postage franking machine. This model is a low to mid volume machine that is ideal for 200 items per day, but this is not a restriction.
Neopost IS350c Postage Franking Machine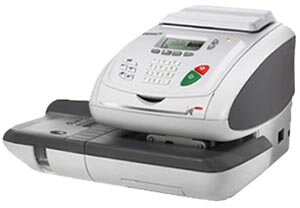 Franking speeds of 40 letters per minute are made possible with the IS350c postage franking machine due to its smooth pass through feeder. Process any mail item up to 9mm thick or less. Its smart technology will also ensure you always pay the correct price, you can reclaim VAT and you can use improved smart blue franking ink.
Give the right impression with your mail by promoting your business via advertisements. Slogans and logos will make an immediate impact on customers and give your mail that professional look. Reinforce communication with customers. Up to 10 can be stored on the IS350c franking machine.
Various optional features and upgrades are also possible with the Neopost IS350c postage franking machine including the option of using Mailmark. Mailmark will give users access to a suite of new features such as lower franking prices. Other options include having up to 100 departmental accounts, using PIN security and using a weighing scale.
Click here to view a range of IS350c franking machine supplies.
Further Information
View even more information about the Neopost IS350c Postage Franking Machine below.
Top Franking Speed:

40 letters per minute

Feeder Used:

Pass Through

Weighing Scales:

Yes, 3 Kg

Connection Type(s):

LAN

Max. Envelope Thickness:

9mm

Job Imprint Memories:

Yes, 9

Advertisements:

Yes, 10

Departmental Accounts:

Yes, 10 or 100

PIN Security:

Yes

Smart Meter Enabled:

Yes

Mailmark Compliant:

Yes

Dimensions:

L: 357mm, D: 375mm, H: 260mm
View our latest range of franking machines here and receive instant franking machine quotes for a similar model to the Neopost IS350c Postage Franking Machine.