Neopost IS-440c Franking System
The IS-440c is a mid volume level franking machine that is designed to frank up to 500 items of mail per day (on average). The IS-440c franking system is manufactured by Neopost and comes with a wide range of franking machine features. Find out more about the IS-440c franking machine below.
About the IS-440c Franking System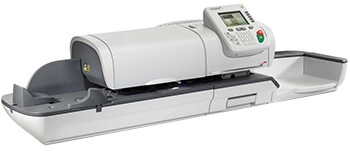 If your business sends larger amounts of mail per day or wish to upgrade your franking machine then the Neopost IS-440c franking system may be ideal for you. It comes with the latest franking machine technologies, it can be protected by PIN security and it will ensure you save more money on your postage.
Your business can save time and increase the efficiency of your mail room with the IS-440c franking system. Mail can be franked faster and by taking advantage of LAN connectivity businesses can receive faster download speeds. Connect to any network quickly, easily and receive constant connection.
With the ability to frank a company logo or slogan available with the IS440c franking machine, businesses can expand their name. Improve the overall appeal of the mail item and potentially increase profits. Up to 10 adverts can be stored on the machine and 9 job memories are available for commonly used mailings.
Click here to view our range of Neopost IS-440c franking machine supplies.
Further IS-440c Details & Specifications
View more Neopost IS-440c details and Neopost IS-440c specifications below.
Franking Speed:

95 letters per minute

Feeder:

Automatic

Maximum Thickness:

12mm

Weighing Platform(s):

Yes, 3, 5, 10 & 30 Kg Option

Job Memories:

Up to 9 are available

Advertisements:

Up to 10 are available

Departmental Accounts:

Up to 100 are available

Smart Meter Technology:

Yes

Mailmark Technology:

Yes

PIN Security:

Yes

Length:

104.3cm

Depth:

37.5cm

Height:

29.8cm
Find out more about the Neopost IS-440c franking machine here.
Are you interested in the Neopost IS-440c franking system? View our range of franking machines here and receive a franking machine quote for a similar model.