Neopost Franking Machines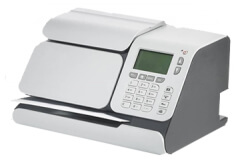 Neopost are one of the largest franking machine manufacturers in the world and they offer a wide range of Neopost franking machines. They have been supplying and manufacturing postage machines since 1924 and today they are Europe's leading supplier. Neoposts' headquarters is based in Bagneux, France, with other factories located in many countries around the world. This includes the USA, the UK, Canada, Ireland and Australia.
Neopost do not only focus on franking machines as they also supply a wide range of other mail room equipment and business solutions. This includes products such as folding inserting machines, postal scales, consumables, letter openers and shredders.
Range of Neopost Franking Machines
There is currently a wide range of Neopost franking machines on the market. Their most recent range of models can be seen below. Use the links to find out more about that Neopost franking machine.
Older Range of Neopost Franking Machines
Neopost have manufactured many franking machines and some are still used today. Their older range of machines all frank in red ink and are not updated with smart meter or Mailmark technologies. However some businesses still use these models. View some of the older range of Neopost franking machines below.
Neopost IJ25 / IJ25E
Neopost Autostamp
Neopost IJ30 / IJ35 / IJ40 / IJ45 / IJ50
Neopost IJ65 / IJ70 / Ij75 / IJ80 / IJ85
Neopost SM22 / SM26
If your business are still using one of the above franking machines then you may wish to invest in a new and more updated model. View our range of franking machines here and receive quick franking machine quotes.
Neopost Franking Machine Supplies
Buying brand new and original ink cartridges directly from Neopost can turn out to become expensive. There are many cheaper alternatives available on the market which can save you money but it can be difficult finding a reliable supplier.
Luckily for you Mailcoms can offer you a wide range of Royal Mail Approved franking machine ink and various other supplies for a wide range of Neopost franking machines. We can supply original, compatible and remanufactured supplies for many models. View our range of Neopost franking machine supplies here.