Matrix F42 Postal Franking Machine
The Frama Matrix F42 postal franking machine replaces the older Matrix F4 series of franking machines and as such possesses even more franking machine features and benefits. Faster franking speeds, improved franking and Mailmark technology are just some of the improved features of Frama's most recent Matrix 42 franking machine.
Matrix F42 Postal Franking Machine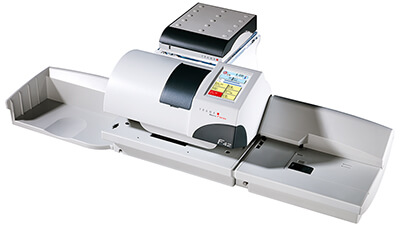 A full colour touch screen, which has 36 OneTouch functions, is a standard feature with the Matrix F42 postal franking machine. This screen is quite large and has clear prompts and guides to guide any user through the franking process. It will display content that is relevant and show the user exactly how to frank.
Semi-automatic feeding is used to frank mail and this can process up to 65 letters per minute. Based on our experience this is ideal for mid-sized mail loads. As well as this both smart meter and Mailmark franking technologies can be benefited from, offering more benefits to businesses.
To ensure that users can benefit from all franking prices a label dispenser comes as standard with the Matrix F42 postal franking machine. The machine can frank onto any mail item up to 10mm thick, whereas franking labels can be used for larger parcels and packets. Benefit from all franking prices and produce clearer impressions.
Click here to view a range of Matrix F42 franking machine supplies.
Matrix F42 Key Details
View the key details and features that the Matrix F42 postal franking machine possesses here.
Speed:

65 LPM

Feeding System:

Semi-Automatic

Weighing Platforms:

Yes, 2, 5 or 30 Kg Available

Connectivity:

LAN

Maximum Envelope Thickness:

Up to 10mm

One Touch Functions:

Yes, 36 Available

Job Memories:

Yes

Advertisements / Slogans:

Yes, 14 Available

Departmental Accounts:

Yes, 50 or 250 Available

PIN Security:

Yes

Label Dispenser:

Yes

Smart Meter Technology:

Yes

Mailmark Technology:

Yes

Length of Machine:

830mm

Depth of Machine:

380mm

Height of Machine:

220mm
View our range of franking machines here and receive an instant franking machine quote for a similar machine to the Frama Matrix F42.