Frama Matrix F82 Franking Machine Overview
The Frama Matrix F82 franking machine is Frama's highest volume franking machine that is Mailmark compliant. It was released during 2014 for Mailmark and it is capable of franking up to 800 mail items per day. This is our recommended volume based on our very own experience with a similar model.
Frama Matrix F82 Franking Machine Features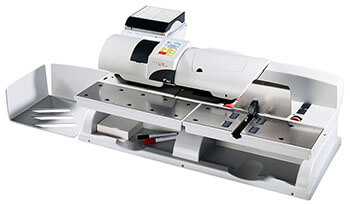 As a high volume franking machine the Frama Matrix F82 franking machine comes with a wide range of franking machine features that can aid users. These features range from the latest Mailmark technology to Frama's OneTouch technology that comes as standard in all Frama franking machines. Find out about some of the Matirx F82's various franking machine features in detail below.
OneTouch Technology
One feature that is used in the Frama Matrix F82 franking machine is OneTouch technology. This unique technology is fast and simple to use and it means 'touch and frank'. This technology is designed so that everyone can use the machine not specialized users. Use up to 36 OneTouch functions for your most frequently used mailings. This is an exclusive feature that only Frama machines possess.
Mailmark Technology
As well as OneTouch technology the latest Mailmark technology is integrated into the Matrix F82 machine. This machine, as well as 5 other Matrix F models, was released for Royal Mail's Mailmark service. By being Mailmark ready businesses can benefit from the lowest franking discounts available, franking a new 2D barcode and much more. Find out about Mailmark here.
Smart Meter Technology
Other franking technology that is available in the Frama matrix F82 franking machine is smart meter technology. By using this users can frank in smart blue ink which improves the franking's readability. Also all of Royal Mail's VAT services and products are available for use in this franking machine meaning that once you use a VAT liable service you can reclaim your VAT from HMRC.
Accounting Feature
An accounting feature also comes with the Matrix F82 and this enables monitoring and tracking of all postage expenditure. By using either 150 or 250 departmental accounts businesses can give certain people / departments access to the franking machine and keep on top of who is franking what. Also keep your postage funds safe and secure via PIN security on your departmental accounts.
Feeding System
A final franking machine feature that comes as standard with the Frama Matrix F82 franking machine is a fully automatic feeding system. This system can frank onto any mail item that is 10mm thick and at an incredible speed reaching 140 letters per minute. These speeds enable up to 800 mail items to be franked daily with incredible ease.
View our range of franking machines here and get a franking machine quote for a similar machine to the Frama Matrix F82.