Frama Matrix F42 Mailing System Review
The Frama Matrix F42 franking machine is a low to mid volume franking machine that is designed for businesses that send up to 300 items per day. Based on our experience with a very similar franking machine to the Matrix F42 mailing system, we recommend businesses to send at least 300 items of mail per day (on average) with this machine.
Frama Matrix F42 Mailing System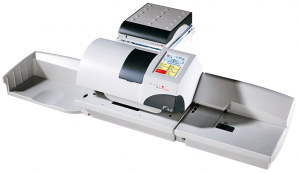 The Matrix F42 mailing system comes with a range of franking machine features. The features included with the Matrix F42 franking machine can aid any business. The latest franking machine technologies, an automatic feeding system and various OneTouch functions are some of the franking machine features included.
Automatic Feeding System
A fully automatic feeding system is available with the Matrix F42 mailing system and this means mail can be processed at faster speeds. Up to 65 letters can be franked per minute. This feeder can frank onto any mail piece up to 10mm thick with compatible franking labels being available for thicker pieces.
OneTouch Functions
Frama gives users of the Matrix F42 franking machine access to 36 OneTouch functions. This is integrated into the machines colour display screen and allows jobs to be set up much quicker. Access the machine with clearer ease and benefit from this useful feature.
Automatic Label Dispenser
The Frama Matrix F42 comes with a automatic label dispenser which allows mail items thicker than 10mm to be franked. Packets and parcels can be franked to give users access to all the postage discounts.
Mailmark Compatibility
The Frama Matrix F42 mailing system is Mailmark compliant and this means businesses can benefit from the lowest postage rates. This machine was one of the first to become Mailmark ready and this basically means the franking machine will produce a 2D barcode onto your mail and offer you added features.
These are just some of the many franking machine features that come with the Frama Matrix F42 mailing system. Other beneficial features include automatic feeding, storing job memories and using many departmental accounts to monitor postage expenses.
If you would like to purchase some franking machine supplies for the Matrix F42 then view our range of Frama Matrix F42 franking ink & labels here.
Save money when buying a similar franking machine to the Frama Matrix F42 with us. Simply view our range of franking machines here and get a quick quote.