Frama Matrix F42 Franking Machine Overview
The Frama Matrix F42 franking machine is a low to mid volume franking machine released by Frama during 2014 for the new Mailmark service. As a low to mid volume machine, it is recommended that users frank up to 300 mail items per day with this model. This is based on our own experience with a franking machine with similar speeds.
Frama Matrix F42 Franking Machine Features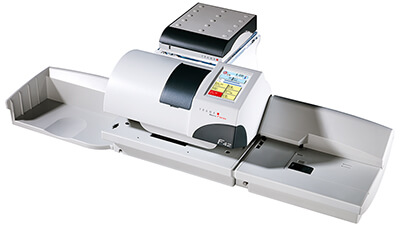 This may only be a low to mid volume franking machine but it does come with many franking machine features that are found in larger volume machines. These features vary from the most up to date franking technologies to the ability to frank personalised adverts on outgoing mail. View some of the Frama Matrix F42 franking machine features below.
Mailmark Technology
One of the Matrix F42's main features is the most recent Mailmark technology. This model, as well as other Matrix F models, was released for Mailmark 2014. This feature allows businesses to benefit from more franking savings, constant tracking of mail and more. When using Mailmark more money will be saved per franking impression and a brand new 2D barcode will be franked on every mail item.
Accounting Feature
An accounting feature comes with this franking machine allowing monitoring and recording of postage expenditure. Access and use as many as 250 accounts or downgrade to 50 if you desire. This will help you know who has been using this machine. Also use PIN code protection on all departmental accounts and prevent unauthorised personnel from accessing this franking machine.
Feeding System
Another feature that comes as standard in the Frama Matrix F42 franking machine is a semi automatic feeding system. This feeder can process mail as fast as 65 letters per minute and is perfectly recommended for franking up to 300 mail items per day. Frank onto all mail items 10mm thick or less and thicker parcels can be franked via franking labels.
Weighing Platforms
Integrated weighing platforms come as standard in all franking machines and the Matrix F42 is no different. Accurately weigh and frank the correct postage price on all mail items eliminating the possibility of over or under paying for a mail item. Use a 2 Kg scale as standard or upgrade this to a 5 or even 30 Kg scale if you wish. Never again miss pay for a mail item.
Advertising
One final feature the Frama Matrix F42 franking machine possesses are 8 advertisement slogans. These adverts can be personalised and franked onto your outgoing mail to attract customers and expand your business name. By using 600 dpi franking technology your advertisements will look highly professional. Use this machine as a free marketing tool.
View our range of franking machines here and get a franking machine quote for a similar machine to the Frama Matrix F42.