Centormail Postal Franking Machine
FP Mailing are one of the world's leading franking machine manufacturers and their Centormail postal franking machine is their current high volume machine. As such it is designed to handle much larger volumes of mail and comes with a suite of franking feature. Based on our experience it is ideal for franking over 800 items per day.
Centormail Postal Franking Machine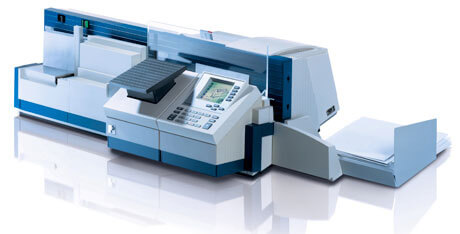 The FP Mailing Centormail postal franking machine is a more expensive model in comparison to others on the market but it can frank a lot of mail per day. Automatic feeding can help ensure up to 150 letters can be franked per minute and an integrated weighing scale will ensure all mail is accurately paid for, eliminating the risk of Royal Mail surcharges.
A more professional business image can be portrayed via your mail with the Centormail postal franking machine due to its inkjet printing capabilities. Crisp and clean impressions will always be produced and up to 15 adverts can be stored for quick access. Make an impact on your customers and potentially increase profits.
Not only this but the Centormail is Mailmark ready. This means that business will be able to benefit from further postage savings, franking a new 2D barcode and using a LAN connection. Smart meter technology is also available meaning that smart blue franking ink will be used and all VAT applicable services can be used.
Click here to view a range of Centormail franking machine supplies.
Centormail Key Details
View the key details and features that the Centormail postal franking machine possesses here.
Speed:

150 LPM

Feeding System:

Automatic

Weighing Platforms:

Yes, 5 Kg Available

Connectivity:

LAN

Maximum Envelope Thickness:

Up to 20mm

Job Memories:

Yes, 20

Advertisements / Slogans:

Yes, 15 Available

Departmental Accounts:

Yes, 300 Available

PIN Security:

Yes

Colour Touch Screen:

Yes

Smart Meter Technology:

Yes

Mailmark Technology:

Yes

Length of Machine:

1165mm

Depth of Machine:

540mm

Height of Machine:

340mm
View our range of franking machines here and receive an instant franking machine quote for a similar machine to the FP Mailing Centormail.