About the Matrix F62 Postage Meter
The Matrix F62 postage meter is a mid-volume franking machine manufactured and supplied by Frama. The Matrix F62 is one of Frama's most recent postage meters and it is suitable for medium sized businesses or businesses that send up to 500 items per day. The Matrix F62 comes with many features and advantages. Find out more below.
Frama Matrix F62 Postage Meter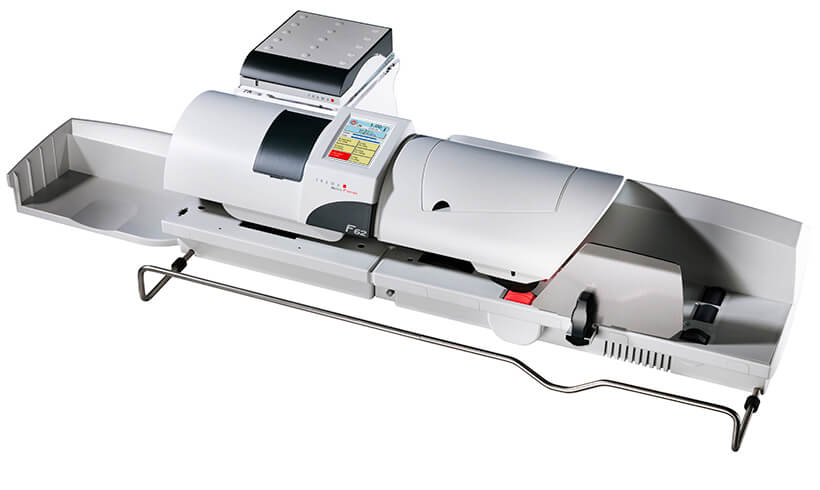 One of the main reasons you should frank mail is due to the Frama Matrix F62 postage meter possessing the latest franking technologies. Smart meter and Mailmark can be used with the Matrix F62 and these technologies come with an array of features and extras that all businesses can benefit from.
The Matrix F62 postage meter uses an automatic feeder when franking mail items. This is fully automated and can process a range of letter formats ranging from C6 to B4. Up to 95 letters can be franked per minute and parcels can be franked via the machines label dispenser.
There are many features available with the Matrix F62 postage meter. As many as 36 one touch functions are incorporated into the franking machines colour display screen, an integrated weighing scale will ensure accurate payments occur and a company logo or slogan can be franked onto mail items.
Click here to view our range of Matrix F62 franking machine supplies.
Matrix F62 Specifications
Take a gander at the various Matrix F62 specifications below.
Franking Speed:

95 per minute

Feeding System:

Automatic

Maximum Envelope Thickness:

10mm

Weighing Scale:

Yes, 2 Kg

One Touch Functions:

Yes, 36

Advertisements:

Yes, up to 14

Departmental Accounts:

Yes, up to 100

Job Memories

Label Dispenser

Smart Meter Technology

Length:

1085mm

Depth:

621mm

Height:

219mm
Matrix F62 Options
Take a gander at the various Matrix F62 options below.
Weighing Scale:

5 & 30 Kg scales also available

Connection:

WiFi or LAN

Departmental Accounts:

Upgrade to 250

PIN Security

Mailmark Technology
Interested in the Matrix F62 franking machine? View our range of franking machines here and receive a low cost quote for a very similar postage meter.