Neopost IS-350 Franking Machine Review – By Mailcoms
The IS-350 franking machine is one of the latest franking machines to support the brand new Mailmark initiative released by Royal Mail during 2014. This machine offers businesses the latest franking technology which can offer you the lowest postage prices available. Frank a new 2D barcode and much more with Mailmark technology.
Neopost IS-350 Franking Machine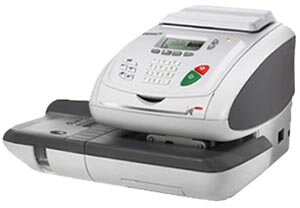 The Neopost IS-350 franking machine is a low to mid volume machine recommended to frank up to 200 mail items per day, based on our experience. With a top speed of 40 items a day, any business that sends as many as 200 items daily can benefit from using this model. The IS-350 machine also comes with many franking machine features as well as the new Mailmark technology described previously.
You can also use the latest smart meter technology as well with the Neopost IS-350 franking machine. You can reclaim your paid VAT from HMRC and use all of Royal Mail's VAT services and products. As well as this, users of the IS-350 franker can frank personalized adverts onto mail items. This allows you to advertise your business and attract customers before they open their mail. This can help improve your business image.
Other features that come with this machine include a integrated 3 Kg weighing scale, various departmental accounts and differential weighing. If this machine appeals to you, then receive a quick Mailmark Quote or a view Mailcoms Franking Machines here and get a lower cost alternative to the IS-350.
View our range of Neopost IS-350 Franking Machine Supplies here.
Purchase Neopost IS-350 Franking Ink here.
IS-350 Specifications
View the specifications of the Neopost IS-350 Franking Machine below.
Speed:

40 LPM

Feeding System:

Pass Through Feeding

Weigh Platform:

3 Kg scale

Max. Envelope thickness:

9mm

Min. Envelope Size:

89mm x 127mm

Max. Envelope Size:

229mm x 324mm

Job Memories:

9

Connectivity:

LAN or Analogue

Adverts:

8 Standard, 2 Open

Departmental Accounts:

10 as standard, 100 optional

PIN Protection:

Yes

Smart Meter Enabled:

Yes

Mailmark Compatible:

Yes
IS-350 Dimensions
View the dimensions of the Neopost IS-350 franking machine below.
Length of machine:

357mm

Height of machine:

260mm

Depth of machine:

375mm