Frama Matrix F62 Franking Machine Review – By Mailcoms
The Matrix F62 franking machine was designed for medium to large sized letter volumes and it was built to help meet the requirements of any busy mailroom. It is easy to use, it comes with high quality printing and other key features that will aid you in the franking process. Based on our experience with a similar model, the Matrix F62 is suited to frank up to 500 mail items per day.
Frama Matrix F62 Franking Machine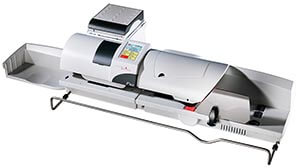 The Frama Matrix F62 franking machine comes with an automatic feeding system that can frank onto mail items up to 10mm thick. If your mail items are thicker than this specified amount then you can use low cost franking labels instead. By using a fully automatic feeder, faster franking speeds of 95 letters per minute can be processed.
Other incredible features that come with this machine include 36 easy to use one touch button functions that makes franking mail that little bit easier. You can also use up to 250 departmental accounts with the Matrix F62 franking machine or you can use 100 as standard. Another feature that comes with this incredible mid to high volume model is PIN protection. This allows you to protect your departmental accounts individually.
The Matrix F62 machine also comes with the most up to date franking technologies. This means that both Mailmark and Smart Meter technology can be used in this franking machine. Both of these technologies are beneficail to use. If this machine appeals to you, you can revive a Mailmark Quote or a franking machine quote for a similar model here.
Matrix F62 Specifications
View the specifications of the Frama Matrix F62 Franking Machine below.
Speed:

95 LPM

Feeding System:

Fully Automatic

Weigh Platform:

2, 5 or 30 Kg scales

Max. Envelope thickness:

10mm

OneTouch Functions:

36

Connectivity:

LAN Connection

Adverts:

8

Departmental Accounts:

100 as standard, 250 optional

PIN Protection:

Yes

Colour Touch Screen:

Yes

Smart Meter Enabled:

Yes

Mailmark Compatible:

Yes
Matrix F62 Dimensions
View the dimensions of the Frama Matrix F62 franking machine below.
Length of machine:

1085mm

Height of machine:

219mm

Depth of machine:

621mm

Weight of machine:

15.3 Kg