Frama Matrix F32 Franking Machine Review – By Mailcoms
The Frama Matrix F32 franking machine is a relatively new franking machine released by Frama AG during 2014. In order to comply with the brand new Mailmark service, Frama have released a new breed of franking machines. The Frama Matrix F32 is one such Mailmark ready franking machine. Frama customers will now be able to benefit from the brand new Mailmark service if they desire.
If you would like a low cost Mailmark franking machine, then receive a quick Mailmark quote here.
Frama Matrix F32 Franking Machine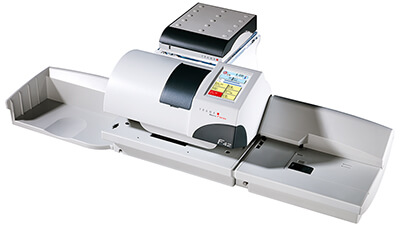 The Frama Matrix F32 franking machine is a low to mid volume franking machine based on our experience with a similar model machine. Coming with a semi automatic feeding system, this model can frank at a top speed of 50 letters per minute. To help improve the easiness of this machine you can use 30 one touch buttons and shortcut functions that will make franking easier and simpler for all users of the machine.
You can use a integrated weighing scale with this model and accurately pay the correct postage on all mail. Never over pay for a mail item again. By using 600 dpi printing your franking impressions will look clean and crisp every time. You Mailmark impression will also help improve the look of your mail helping to improve your brand and business image.
The Matrix F32 also comes with more incredible features such as the capability to connect to your company network and internet. This will allow your postal rate changes, software updates and advertisements to be retrieved quickly and directly from the internet. This can be very beneficial. You can also account your postage costs online which is a secure and practical solution for your business.
Other great features that come with this model machine include smart meter technology, 25 standard departmental accounts with PIN protection, a maximum envelope thickness of 10mm and more. Would like a franker similar to the Frama Matrix F32 franking machine? If so then you can view our range of franking machines here.
Matrix F32 Specifications
View the specifications of the Frama Matrix F32 Franking Machine below.
Speed:

50 LPM

Feeding System:

Semi-Automatic

Weighing Platforms:

2, 5 or 30 Kg scales

Max. Envelope thickness:

10mm

One Touch Functions:

30

Connectivity:

LAN Connection

Print Quality:

600 dpi

Adverts:

8

Departmental Accounts:

25 as standard, 100 optional

PIN Protection:

Yes

Smart Meter Enabled:

Yes

Mailmark Compatible:

Yes
Matrix F32 Dimensions
View the dimensions of the Frama Matrix F32 Franking Machine below.
Length of machine:

830mm

Height of machine:

220mm

Depth of machine:

380mm

Weight of machine:

8.5 Kg

Electrical:

240 V / 50 Hz