Pitney Bowes DM160i Franking Machine – Guide By Mailcoms
Pitney Bowes DM160i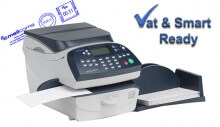 Low Volume Franking Machine (Speed of up to 40 franks per minute)
The Pitney Bowes DM160i franking machine is one of the new Mailmark compliant franking machines supplied by Pitney Bowes. This means that this low to mid volume machine, that can frank up to 200 items a day based on past experience, will use the new 2D barcode frank and the lower franking prices that the new Mailmark service can offer.
As well as being Mailmark compliant, the Pitney Bowes DM160i machine can also use the Royal Mail's VAT services as it is a Smart Meter Enabled machine. This technology is also extremely useful as you can frank in smart blue and improve the look of your mail. Smart Meter technology is older technology, but it is very crucial for any business using VAT services.
The Pitney Bowes DM160i machine is a flexible solution for any business franking up to 200 mail items a day. Coming with a top speed of 40 items a minute, as well as handling mail items up to 9.5mm thick, allows effortless franking to occur. You can also frank larger items by using franking labels, all sold at a low price from Mailcoms. The DM160 machine also comes with a integrated weighing scale that will help ensure accurate postage every time.
Get low cost Pitney Bowes DM160i Franking Machine Supplies here.
Get a low cost Franking Machine Quote for a similar machine here.
Get a low cost Mailmark Franking Machine Quote for a similar franking machine here.
Pitney Bowes DM160i Specifications
Speed: 40 letter per minute
Feed Method: Semi-Automatic
Scale: 2.5, 7, 12 or 35 Kg scales available
Max. envelope thickness: 9.5mm
Envelope Size: DL, C5 & C4
Connection Method: LAN or Telephone connection
Job Memories: Up to 5
Departmental Accounts: 25 accounts
Smart Meter Technology: Yes
Mailmark: Yes
PIN Security: Yes
Differential Weighing: No
Sealer: No
Text Entry: No
Date / Time Stamp: No
Dimensions: Length: 345mm, Depth: 400mm, Height: 230mm
Dimensions: Weight: 6.8KG
Electrical: 100-240V, 50/60Hz, 3A
Noise: 55dB
Pitney Bowes DM160i Running Costs
Ink: £64.50 for 5,000 prints
Franking Labels: £16.95 for 1000
Envelopes: £29.95 for 250