Pitney Bowes DM110i Smart Franking Machine
If your business needs a cost effective way to process your mail then look no further. A franking machine such as the DM110i smart franking machine will help speed up the process of sending mail and save your business time and money. With 5 job memories, 10 departmental accounts and a reporting function, processing mail could not be made any easier.
Pitney Bowes DM110i Smart Franking Machine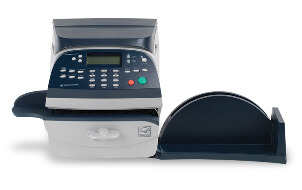 The Pitney Bowes DM110i smart franking machine can process mail at a speed of 25 letters per minute via a pass through feeder. This will make franking ideal for all and perfectly designed for small mail volumes. Frank any item up to 9.5mm thick or use franking labels for items that are thicker.
An integrated weighing scale will help eliminate any risk of miss paying for mail as it can be used to weigh all items accurately. This will ensure correct postage is applied. This low volume model is also Mailmark ready, allowing even lower franking prices to be used when franking. Mailmark is a new piece of technology and can be highly beneficial.
View our wide range of Pitney Bowes DM110i franking machine supplies here.
Smart Meter Technology
The DM110i smart franking machine is one model that comes with the most up to date smart meter technology. This great piece of technology will allow users to benefit from all VAT services and products. As well as this, businesses should now be franking in smart blue franking ink with the DM110i. Find out more about smart franking machines here.
Pitney Bowes DM110i Specifications
View the latest and most up to date specifications for the Pitney Bowes DM110i smart franking machine here.
Speed:

25 franks per minute

Envelope Feeding System:

Pass Through

Weighing Scales:

2.5, 7, 12 or 35 Kg

Connectivity:

LAN

Max. Envelope Thickness:

9.5mm

Job Memories:

Yes, 5

Advertisements:

Yes

Departmental Accounts:

Yes, 10

PIN Security:

Yes

Smart Meter Technology:

Yes

Mailmark Technology:

Yes

Length:

345mm

Depth:

400mm

Height:

230mm
View our range of franking machines here and receive instant quotes for a similar model to the Pitney Bowes DM110i.