Neopost SI-76 Folding Inserting Machine – Guide By Mailcoms
All out going mail is a vital tool for any business of any size. A folding inserting machine such as the Neopost SI-76 is perfect for accurately, efficiently sand reliably folding your mail to a professional standard. This can aid any business a lot as all out going mail will be perfectly folded with no errors. Handle a wide range of documents including invoices, letters and even documents with a bottom address.
Neopost SI-76
The Neopost SI-76 folding inserting machine comes with a great PowerFold feature that enables up to 8 pages to be folded in one envelope. This model machine is perfect for preparing complex mailings as all pages in one envelope will be folded and inserted easily, quickly and effectively. The SI-76 can process mail which is both stapled and unstapled being very helpful.
The Neopost SI-76 comes with a LCD control panel which makes using this machine incredible easy. Use up to 20 job memories with this model, all of which can be accessed at the touch of a button, Using this machine could not be easier. As well as this the SI-76 allows you to use either 2, 4 or 6 stations being flexible and perfect for a wide range of businesses large or small.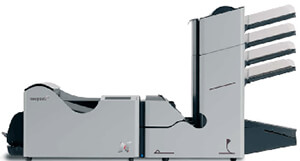 Mid Volume Folding Inserting Machine (speed of up to 3,500 letters per hour)
The Neopost SI-76 folder inserter is a mid volume machine based on our experience with a similar model. It is capable of processing up to 3,500 documents / envelopes per hour at top speed. This much quicker than any human. As this folder inserter is fast it enables workers to be more productive elsewhere once they have completed using this machine.
View our range of Neopost envelopes here.
View our range of Neopost SI-76 envelopes here.
Neopost SI-76 Specifications
View the specifications for the Neopost SI-76 folding inserting machine here.
Speed:

3,500 cycles per hour

Fold types:

Half Fold, Zigzag Fold, Double-Parallel Fold, C Fold

Job Memories:

20

Set Thickness:

2mm

Stations:

Upgrade from 2 to 4 to 6 Stations

Folding Capacity:

8 Sheets

Document Feeder Capacity:

325 Sheets

Production Feeder:

1,200 Sheets

Envelope Capacity:

275 Envelopes

Multiple Sheet Feeding:

Yes

Tip-to-Tip Sealing:

Yes

Optical Mark Recognition:

Optional

Dimensions:

Depth: 16.5″, Length: 59″, Height: up to 36″(6 Stations)
Would you like a brand new folding inserting machine similar to the Neopost SI-76 mdoel? If so then you can view our range of folding inserting machines here.