Neopost IS6000 Franking Machine – Guide By Mailcoms
Neopost IS6000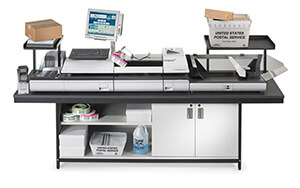 High Volume Franking Machine (speed of up to 260 franks per minute)
The Neopost IS6000 franking machine is one of Neopost's most advanced franking machines, fully capable of reaching a top speed of 260 letters every minute. As announced by Neopost, this franking machine is set to become a Mailmark compliant franking machine after an update, meaning that this new and low cost franking service will be available in all Neopost IS6000 franking machines.
As well as being Mailmark compliant, the Neopost IS6000 machine also comes with a range of features including up to 500 departmental accounts available, a full colour touch screen that will allow you to frank with real ease and a integrated choice of weighing scales that will eliminate the chance of you ever over paying for a mail item again. These are just some of the many features that come with this incredible high volume machine, as you also gain access to Smart Meter technology and various advertisement slogans.
Get a low cost Mailmark Franking Machine Quote for a similar machine.
Get low cost Neopost IS6000 Franking Machine Supplies here.
Get a low cost Franking Machine Quote for a similar machine.
Neopost IS6000 Specifications
Speed: Up to 260 letters a minute
Dynamic Weighing Speed: 140 letters a minute
Scale: 3, 5 ,10, 30 kg scales available
Feed Method: Fully Automatic
Label Dispenser: Fully Automatic
Max. envelope thickness: 20mm
Connection Method: LAN Connection
Departmental Accounts: Up to 500
Job Memories: 15
Advertisement Slogans: 8
Smart Meter Technology: Yes
Mailmark Compliant: Yes
Colour Touch Screen: Yes
Ultra High Capacity Ink Cartridge: Yes
Differential Weighing: Optional
Dynamic Scale: Optional
Barcode Scanner: Optional
Dimensions: Length: 150cm to 198cm (Depending on Options), Depth: 64cm, Height: 36cm
Control Panel Height: 84cm
Neopost IS6000 Running Costs
Ink: £279.50 for around 200,000 prints
Universal Franking Labels: £15.50 for 1000
Envelopes: £29.95 for 250