Neopost IS460 Franking Machine – Guide By Mailcoms
Neopost IS460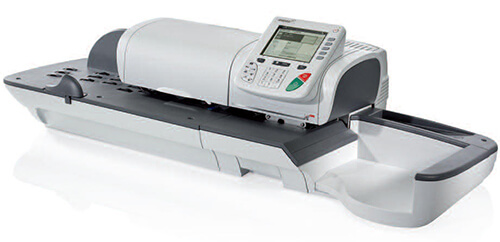 Mid to High Volume (Speed of up to 110 franks per minute)
The Neopost IS460 mid to high volume franking machine is a fast franking machine capable of franking up to 110 items of mail a minute. It comes with an automatic feeder which helps it to frank at a faster speed and it will benefit any business sending larger mailing projects such as invoice runs.
The Neopost IS460 machine comes with a wide range of franking machine features, all of which will be very beneficial to your business. It comes with an integrated weighing scale that will eliminate the chance of over paying for a mail item, up to 8 advertisements which will allow you to expand your business name and the latest Smart Meter technology that will allow you to use Royal Mail VAT services.
Fortunately as well, the Neopost IS460 is set to become Mailmark compliant which means that your business can now frank at a even lower franking price as well as using a brand new 2D barcode frank that will aid both you and the Royal Mail immensely. As Mailmark is a new service, it is well advised to upgrade to become Mailmark compliant today. Get a low cost Mailmark Franking Machine Quote for a similar machine to the IS460 here.
Get low cost Neopost IS460 Franking Machine Supplies here.
Get a low cost Franking Machine Quote for a similar machine here.
Neopost IS460 Specifications
Standard Speed: 110 letters per minute
Dynamic Weighing Speed: 60 letters per minute
Feeder: Fully Automatic
Max. Envelope Thickness: 16mm
Envelope Minimum: 89mm x 127mm
Envelope Maximum: 254mm x 330mm
Scale: 3, 5, 10 or 30 Kg scales available
Departmental Accounts: 30 standard, 100 / 200 optional
Connection: LAN or Telephone Connection
Advertisements: Up to 8
Job Memories: 9
Smart Meter: Yes
Mailmark: Yes
Differential Weighing: Optional
Dynamic Scale: Optional
Dimensions: Length: 1219mm, Height: 324mm, Depth: 442mm
Dynamic Scale adds 438mm to length
Neopost IS460 Running Costs
Ink: From £59.50 for 12,500 prints
Franking Labels: £16.95 for 1000
Envelopes: £29.95 for 250