Neopost IS430 Franking Machine – Guide By Mailcoms
Neopost IS430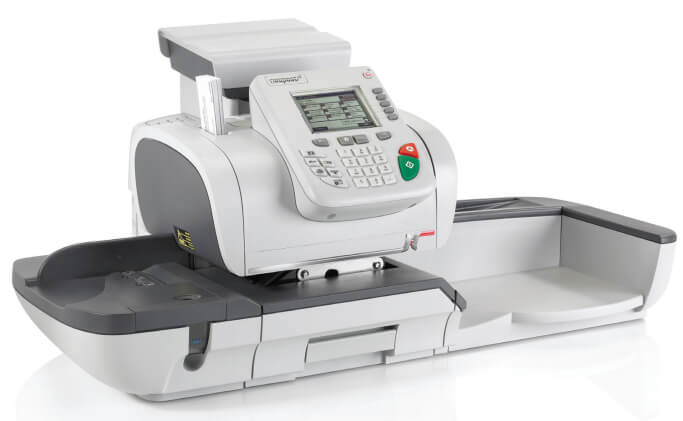 Mid Volume Franking Machine (Speed of up to 65 franks per minute)
The Neopost IS430 / IS-430 franking machine is a mid volume franking machine that is manufactured by Neopost. It comes with a top franking speed of 65 letters per minute and this is made possibly via a semi-automatic feeding system. Judging from our experience to a similar franking machine to the IS430, we would recommend that this machine is suitable for franking up to 300 items of mail per day.
The Neopost IS430 franking machine also comes with the most up to date franking technologies. Both Smart Meter technology and Mailmark technology come integrated with this mid volume franker, and this enables any business to benefit from franking with the Neopost IS430. Use Royal Mail VAT services with smart meter technology and benefit from lower franking prices when using the brand new Royal Mail Mailmark service.
The Neopost IS430 machine not only comes with the latest technology, but you can also frank advertisements onto your mail. By personalising your mail items, you can improve the professional look of your mail and help increase brand awareness. You can also frank a company logo and / or a return address onto every mail item, ensuring any undelivered mail returns back to you.
Get a low cost Mailmark Franking Machine Quote for a similar machine here.
Get some low cost Neopost IS430 Franking Machine Supplies here.
Get a low cost Franking Machine Quote for a similar machine here.
Neopost IS430 Specifications
Speed: 65 letters per minute
Feeding System: Semi_Automatic Feeder
Weighing Scales: 2KG, 5KG, 10KG or 30KG
Departmental Accounts: 25 as standard, 300 optional
Job Memories: 9
Advertisements: 9
Rate Wizard: Yes
PIN Protection: Yes
Barcode Scanner: Yes
Smart Meter Enabled: Yes
Mailmark Compliant: Yes
Dimensions: Length: 33″, Depth: 12″, Height: 15″
Dimensions with catch tray: Length: 46″, Depth: 12″, Height: 15″
Neopost IS430 Running Costs
Ink: £68.50 for 12,000 prints
Labels: £16.95 for 1000
Envelopes: £29.95 for 250