Neopost DS-75 Folding Inserting Machine – Guide By Mailcoms
Neopost DS-75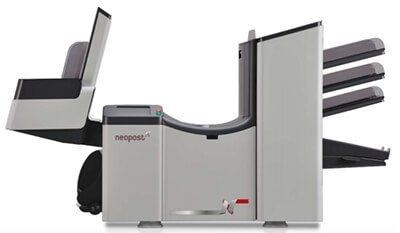 Mid Volume Folding Inserting Machine (Speed of up to 3,600 cycles per hour)
The Neopost DS-75 folding inserting machine is one of Neoposts' mid volume folder inserters. It comes with a wide range of features, all added to help benefit the user of this machine. It comes with a top folding speed of 3,600 cycles per hour and up to 3 separate feeders can be used on this machine, and this is why this is a mid volume machine.
Not only this, but the Neopost DS-75 machine also comes with 4 different configuration options which will allow all business needs to be met. Simply choose the most suitable configuration and your are ready to fold your mail professionally.
The Neopost DS-75 machine was made to make productivity easy. You can use its high capacity vertical stacker to reduce loading time. This enables your staff to be more productive in the meantime. You can also unload up to 500 envelopes every 8 minutes when running a top speed, requiring less handling.
However, if your business would like to save money when purchasing a Neopost DS-75 machine, then you can receive a low cost Folding Inserting Machine Quote from Mailcoms here for a similar machine and save money.
View our range of Neopost Folding Inserting Machine Envelopes.
View our range of Neopost DS-75 Folding Inserting Machine Envelopes.
Neopost DS-75 Specifications
Speed: 3,600 cycles per hour
Fold types: Letter, Single Fold, Zigzag Fold, Double-Parallel Fold, No Fold
Job Memories: 25
Number of Feeders: Up to 3
Document Feeder Capacity: 325 Sheets, 80 gsm
Document Feeder High Capacity: 725 Sheets, 80 gsm (Optional)
Document Height: 90mm – 356mm
Document Width: 130mm – 230mm
Document Weight: 60 gsm – 250 gsm
Envelope Feeder Capacity: 325 Envelopes
Envelope Feeder High Capacity: 500 Envelopes (Optional)
Envelope Length: 90mm – 162mm
Envelope Width: 160mm – 248mm
Manual Feed: Yes
Multiple Sheet Feeding: Yes
Tailor-Made Furniture: Optional
Dimensions: Depth: 454mm, Height: 725mm, Length: 1300mm
Dimensions: Weight: 75 Kg