Neopost DS-180 Folding Inserting Machine – Guide By Mailcoms
A folding inserting machine will fold envelopes for you so you don't have to, saving you numerous hours of time. You shall be able to spend more time being productive elsewhere with a folding inserting machine. One of the most recent machines on the market is the Neopost DS-180 folding inserting machine. This model machine is highly productive and perfect for folding your mail cleanly and accurately every time.
Neopost DS-180
The Neopost DS-180 folding inserting machine was purposely built for higher productivity levels and greater productivity. You can use many high capacity feeders on this machine which can process mail at an incredible rate. If the machine breaks during production then any area of the DS-180 can be accessed and fixed immediately. This means little down time will occur if errors happen.
The sealing fluid which seals your envelopes will not have to be refilled often as the Neopost DS-180 has a 10 litre capacity. Choose the perfect way to fold your mail with this machine and choose from a variety of different folds including zigzag, double parallel and single folds. Make the entire process work easily when using the full colour touch screen and unlimited amount of job memories with the DS-180 as standard. Folding mail could not be made and easier.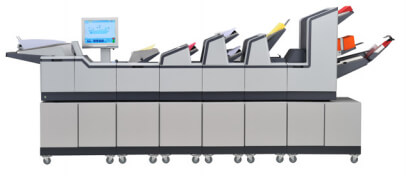 Highly Productive Folding Inserting Machine (speed of up to 5,500 letters per hour)
The Neopost DS-180 folder inserter is a highly productive machine that is capable of producing up to 5,500 envelopes an hour. This is when the machine is folding a single sheet. When 2 sheets are being folded the DS-180 machine can fold mail at a top speed of 4,700 envelopes an hour. The DS-180 folding inserting machine is highly recommended for businesses that would fold about 180,000 envelopes a month.
If you would like a similar folding inserting machine to the DS-180 folder inserter, then you can view our range of folding inserting machines here.
Neopost DS-180 Specifications
View the specifications for the Neopost DS-180 folding inserting machine here.
Speed:

5,500 Cycles per Hour

Speed for 2 Sheets:

4,700 Cycles per Hour

Volume:

180,000 Envelopes per month

Fold Types:

Letter Fold, Zigzag Fold, Single Fold, Double Parallel Fold, No Fold

Job Memory:

Unlimited

Number of Modules in Addition to Inserter Module:

1 – 8

Document Feeder Capacity:

500 Sheets, 1000 Optional

Envelope Feeder Capacity:

800 Envelopes

Set Thickness:

6mm

Sealing Fluid Capacity:

10 Litre

Manual Feed:

Yes

Large PC Touchscreen:

Yes

Dimensions:

130″ x 59″ x 21″