Neopost DS-150 Folding Inserting Machine – Guide By Mailcoms
A folder inserter will easily fold all your mail every month quickly and with ease. The Neopost DS-150 is no different and is fully capable of folding and inserting large volumes of mail on a daily basis. This machine is easy to use, as loading trays will only take seconds to fill. Easily access any area of the machine in case of a breakdown, reducing stoppage to a minimum.
Neopost DS-150
The Neopost DS-150 folding inserting machine is extremely advanced in comparison to other machines in its class, and it is capable of storing an unlimited amount of jobs for instant recall. Save yourself hours of set up time by storing your most commonly used jobs. You can also choose from a wide range of fold types when folding your mail. Fold your mail the way you want and present your mail in the most appropriate way to suit you.
These are not the only features that come with the Neopost DS-150 as you can also use a large PC touchscreen to help aid the folding process. Fold mail with incredible ease and very little effort. Benefit from using a 1 litre capacity of sealing fluid, helping you to keep your machine clean and tidy.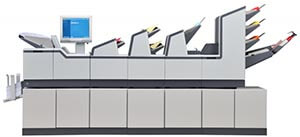 Highly Productive Folding Inserting Machine (speed of up to 4,500 letters per hour)
The Neopost DS-150 folder inserter is a highly productive machine to own. It can operate at an incredible speed of 4,500 cycles per hour when folding a single sheet. If you wish to fold and insert 2 sheets, then this machine will operate at a speed of 3,400 cycles per hour. This highly productive machine is recommended to fold up to 150,000 envelopes every month if you wish to get the most from using the Neopost DS-150.
If you would like a similar folding inserting machine to the Neopost DS-150, then you can view our range of folding inserting machines here.
Neopost DS-150 Specifications
View the specifications for the Neopost DS-150 folding inserting machine here.
Speed:

4,500 Cycles per Hour

Speed for 2 Sheets:

3,400 Cycles per Hour

Volume:

150,000 Envelopes per month

Fold Types:

Letter Fold, Zigzag Fold, Single Fold, Double Parallel Fold, No Fold

Job Memory:

Unlimited

Number of Modules in Addition to Inserter Module:

1 – 4

Document Feeder Capacity:

500 Sheets, 1000 Optional

Envelope Feeder Capacity:

400 Envelopes

Set Thickness:

6mm

Sealing Fluid Capacity:

1 Litre

Manual Feed:

Yes

Large PC Touchscreen:

Yes

Dimensions:

130″ x 59″ x 21″