Frama Officemail – Guide By Mailcoms
Frama Officemail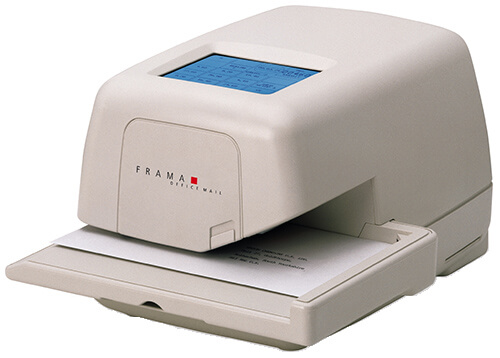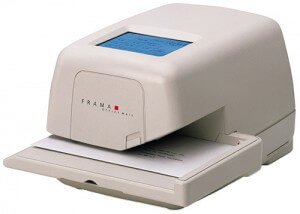 Low Volume Franking Machine (speed of up to 3,000 letters per hour)
The Frama Officemail is a low volume franking machine, capable of franking clean and clear franking impressions onto your mail items. As well as this, the Frama Officemail machine is a Smart Meter franking machine, which means that everyday postal rates are stored on the machine for quick access, including some international rates. You will also be able to frank VAT services as well when using the Smart Officemail franking machine.
Although the Frama Officemail uses thermal ribbons to frank your mail, this is a cheaper alternative to franking ink, which means that this machine is much cheaper to run. It will frank your mail perfectly whilst saving you money. This easy to use machine will also aid you when calculating the postage costs, as the Officemail will always select the correct postage automatically when using its weighing scale.
However, the Frama Officemail machine is not set to become Mailmark compliant yet, meaning that if you wanted to use the new and cheaper Mailmark service, you will not be able to use an Officemail. Get a low cost Mailmark Franking Machine Quote for a similar machine.
Get some low cost Frama Officemail Franking Machine Supplies here.
Get a low cost Franking Machine Quote for a similar machine here.
Frama Officemail Specifications
Speed: 3,000 letters per hour
Max. envelope thickness: 6mm
Connection Method: LAN or Telephone connection
Advertising Slogans: Up to 8
Cost Centres: Up to 50, all Password Protected
Screen: Frama ComTouch (950mm x 730mm)
Envelope size: DL, C5 & C4
Dimensions: Depth: 330mm, Width: 257mm, Height: 175mm, Weight: 6KG
Electrical: 230 V/50Hz, 0.6A
Smart Meter: Yes
Frama Officemail Running Costs
Ink: £19.95 for around 1,500 prints
Franking Labels: £16.95
Franking Envelopes: £14.95