Frama Matrix F4L Franking Machine – Guide By Mailcoms
Frama Matrix F4L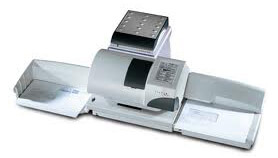 Low Volume (Speed of up to 30 letters per minute)
The Frama Matrix F4L franking machine is a low volume franker that is capable of reaching a top franking speed of 3000 letters per hour. This machine is a slightly older machine, having been around for a few years now, but it is still a very good low volume franker. The Frama Matrix F4L machine also comes with many useful features that makes this low volume machine useful to use.
This machine comes with a manual feeder, which makes this machine frank at slightly slower speeds compared to higher volume frankers. The Matrix F4L also comes with a detachable weighing scale as well as many departmental accounts to help monitor postage funds. You can also benefit from using Smart Meter technology with this machine so that your business can use all of Royal Mail's VAT services and frank in all new SMART BLUE ink.
However, the Frama Matrix F4L franking machine is not set to become a Mailmark compliant model as a new breed of Mailmark machines have been released by Frama. We therefore advise you not to use this low volume machine if you want to take advantage of the new Mailmark service. Get a low cost Mailmark Franking Machine Quote for a similar machine to the Matrix F4L here.
Get low cost Frama Matrix F4L Franking Machine Supplies here.
Get a low cost Franking Machine Quote for a similar machine here.
Frama Matrix F4L Specifications
Speed: 30 letters per minute
Volume: 3,000 letters per hour
Feeding System: Manual
Weighing Scale: Available
Max. Envelope Thickness: 10mm
Connection Method: LAN Connection or Telephone
Departmental Accounts: 20 as standard, 50 optional
Print Quality: 600 dpi
Various Advertisements: Yes
Automatic Date Setting: Yes
ComTouch™: Yes
Smart Meter Enabled: Yes
Mailmark Compliant: No
Dimensions: Length: 566mm, Width: 217mm, Height: 205mm
Frama Matrix F4 Running Costs
Ink: £109.95 for around 18,000 prints
Franking Labels: £16.95 for 1000
Envelopes: £29.95 for 250