Frama Matrix F12 Smart Franking Machine
The Frama Matrix F12 smart franking machine is a small machine which comes fitted with a massive range of features and benefits. Experience an easy to use franking machine as one touch buttons and a clear display screen will allow anyone to frank mail. Use prompts and guides to aid this process and learn how to frank quickly.
Frama Matrix F12 Smart Franking Machine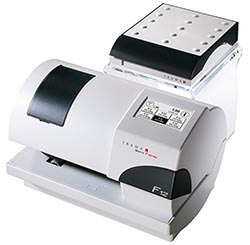 No need to remember the Royal Mail's postage rates as these are integrated into the Matrix F12 smart franking machine. Simply weigh your item and this franking machine will ensure the correct postage is always applied. Using LAN technology will also benefit users as this will make updates and re-crediting easy to complete.
Expand your business name with the Frama Matrix F12 via the use of an advertising tool. Frank a slogan or a logo onto outgoing mail and use this as a marketing tool. As well as this, businesses will see extra benefits from Mailmark technology which offers lower franking prices, tracking of mail and much more.
View our wide range of Frama Matrix F12 franking machine supplies here.
Smart Meter Technology
If your business uses Royal Mail VAT services then the F12 may be built for you as it comes integrated with the latest smart meter technology. Benefit from reclaiming VAT and using the latest smart blue franking ink with this piece of franking technology. Find out more about smart franking machines here.
Frama Matrix F12 Specifications
View the latest and most up to date specifications for the Frama Matrix F12 smart franking machine here.
Speed:

50 franks per day

Envelope Feeding System:

Manual

Weighing Scales:

2 or 5 Kg

Connectivity:

LAN

Max. Envelope Thickness:

10mm

OneTouch Functions:

18

Job Memories:

Yes

Advertisements:

Yes, 8

Departmental Accounts:

Yes, 9 or 25

PIN Security:

Yes

Smart Meter Technology:

Yes

Mailmark Technology:

Yes

Length:

570mm

Depth:

380mm

Height:

210mm
View our range of franking machines here and receive instant quotes for a similar model to the Frama Matrix F12.