FP Mailing Qi2000 Franking Machine – Guide By Mailcoms
The Francotyp Postalia / FP Mailing Qi2000 franking machine is one of FP Mailing's next generation franking machines. This model is extremely advanced, capable of franking your mail cleanly, crisply and professionally. The Qi2000 machine will enable you to keep on top of your out going mail and eliminate the chance of over or under paying for a mail item.
FP Mailing Qi2000
The Qi2000 franking machine comes with a full colour touch screen that will enable members of staff to use this machine with complete ease. Use icon driven menus and easy to follow prompts to frank your mail. This will help speed up the franking process, allowing your staff to be much more productive else where in the business.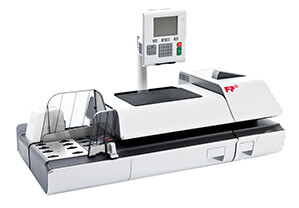 High Volume Franking Machine (speed of up to 260 letters per minute)
The FP Mailing Qi2000 franking machine is a high volume franking machine, designed for higher levels of productivity and output. This machine can frank at an incredible speed of 260 letters every minute, and based on our experience with a similar machine, this model is perfectly capable of franking well over 1000 mail items every day.
As well as speed, the Francotyp Postalia Qi2000 comes with other great features. You will be able to advertise your business completely free by using various advertising slogans on your mail. This will help expand your business name. Also use PIN code protection and help ensure you are in control of your postage funds. You can also benefit from using a LAN connection and receive much faster download speeds for your business.
Receive a low cost Mailmark Quote for a similar machine here.
Receive a low cost Franking Machine Quote here.
FP Mailing Qi2000 Specifications
Speed:

260 Letters per minute

Weighing Speed:

140 Letters per minute

Feeding System:

Fully Automatic

Job Memories:

15

Max. Envelope Thickness:

20mm

Weighing Scale:

3, 5, 10 or 30 Kg scales

Connection Method:

LAN Connection

Advertisements:

8

Colour Touch Screen:

Yes

PIN Security:

Yes

Smart Meter Enabled:

Yes

Mailmark:

Yes

Barcode Scanner:

Optional