FP Mailing FPi 6600 Folding Inserting Machine – Guide By Mailcoms
FP Mailing FPi 5500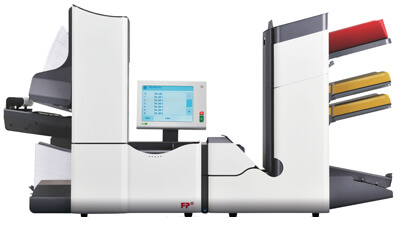 Mid to High Volume Folding Inserting Machine (speed of up to 4,300 letters per hour)
The FP Mailing FPi 6600 folding inserting machine is one of FP Mailing's folding inserters. It is capable of folding at a top speed of 4,300 letters every hour and it is perfectly suited to process up to 80,000 letters every month. This machine will save your business both time and money when being used as this machine is much faster than any human being, and unlike a employed member of staff, the FPi 6600 does not need a wage, saving you money.
As well as speed, the top of the range FP Mailing Fpi 6600 folding inserting machine is a heavy duty machine, meaning businesses with high volumes of mail can process all of their mail with ease and efficiency. This machine comes with a 10.4″ colour touch screen as well, meaning that setting up your job and operating this machine could not be made any easier. This makes setup and operation both easy and convenient. From this colour touch screen, users can use up to 25 job memories, meaning that you can use your most commonly used jobs easily and quickly.
If your business would like to save money on a folding inserting machine, then get a low cost Folding Inserting Machine Quote here for a similar FP Mailing FPi 6600 machine from us and see how much you can save.
View our range of FP Mailing Folding Inserting Machine Envelopes here.
FP Mailing FPi 6600 Specifications
Speed: 4,300 Cycles per hour
Speed: 80,000 Cycles per hour
Fold types: Single Fold, C Fold, Z Fold, Double-Parallel Fold, No Fold
Feeder Stations: 7
Folding Capacity: 10
Job Memories: 25
Feeder Capacity: 325 Sheets
High Capacity Feeder: 725 Sheets
Sheet Max. Thickness: 2mm
Envelope Feeder Capacity: 325 Envelopes
Envelope Max. Thickness: 2.5mm
Automatic Fill & Start Program: Yes
Fold Only Function: Yes
Optical Marks Reading: Optional
Dimensions: Depth: 750mm, Height: 920mm, Length: 1500mm
Dimensions: Weight: 138.3 Kg