FP Mailing FPi 2500 Folding Inserting Machine – Guide By Mailcoms
The FP Mailing FPi 2500 folding inserting machine allows your business to use various fold types to make your folded mail look far more professional than ever before. Choose from four different folding types including: Single Fold, C-Fold, Z-Fold, and Double-Parallel Fold. Use the FPi 2500 to reach a top speed of 2,400 cycles per hour and see how much time and money you can save with a folding inserting machine.
FP Mailing FPi 2500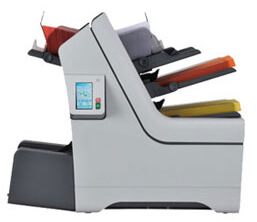 The FP Mailing FPi 2500 folder inserter uses an automatic optical mark recognition (OMR) feature to all the machine to read coded marks on your documents. This is extremely useful when mailing multi-page invoices. Not only this, put with this incredible machine you will be capable of hand feeding your feeders. Feed up to 5 sheets of paper, stabled or not, into the machine so it can be inserted and folded correctly by the FPi 2500.
Other features that come with the FP Mailing FPi 2500 machine include up to 20 job memories for our most commonly used jobs. Use these jobs with ease via one touch buttons. Also benefit from using a "No Fold" or "Fold Only" function which allows you to choose if you want to fold your mail or not. Using this machine could not be any easier.
Low to Mid Volume Folding Inserting Machine (speed of up to 2,400 letters per hour)
The FP Mailing FPi 2500 folding inserting machine is a low to mid volume folder inserter. This means that you can fold and insert about 2,400 cycles per hour when in full operation. This machine is also suited for a maximum volume of 15,000 cycles per month.
When in full operation, this machine will process high volumes of mail uninterruptedly. Once one of its feeders is empty, it will automatically use another feed station to continue its job. This allows you to refill the empty station without pause and this is a key feature when using this machine.
If your business would like to save money on a folding inserting machine, then receive a low cost Folding Inserting Machine Quote here for a similar machine to the FPi 2500 and see how much you can save when buying from Mailcoms.
View our range of FP Mailing Folding Inserting Machine Envelopes here.
FP Mailing FPi 2500 Specifications
Speed:

2,400 letters per hour

Volume:

15,000 per month

Fold Types:

Single Fold, C Fold, Z Fold, Double Parallel Fold, No Fold

Job Memory:

20

Set Thickness:

2mm

Folding Capacity:

8 Sheets

Document Feeder Capacity:

250

Capacity in Filled Envelopes:

250

Separate Daily Mail Feeder:

Yes

OMR Code:

Yes