Pitney Bowes DM60 Franking Machine Review – By Mailcoms
This small office series franking machine is a new franking machine recently released by Pitney Bowes. The DM60 franking machine, also known as the K722, is a new entry level franker capable of franking up to 20 letters per minute. If your business franks no more than 5 items of mail per day the DM60 is perfect for your business.
Pitney Bowes DM60 Franking Machine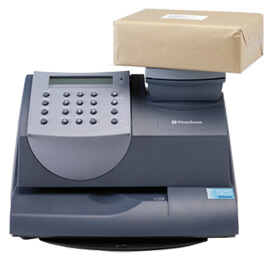 This entry level franking machine is Mailmark ready meaning that you can benefit from this brand new service released during 2014. Benefit from more savings and a new franking impression with Mailmark. The Pitney Bowes DM60 franking machine is very convenient to use in comparison to stamps as you can refill your postage in a few easy steps via Postage By Phone. This is very convenient to all.
Advertise your company on all your mail items when using the DM60 franking machine. All letters can instantly attract customers with a personalised message. Improve your business's professional image. You can also frank onto mail items up to 9.5mm thick meaning that franking labels will have to be used for any larger mail items.
As this is an entry level franking machine it is recommended that you frank no more than 30 items of mail per day based on our experience with a similar model. Although more mail can be franked this is just a guide. There are more features that come with the DM60 franking machine including smart meter technology, connection to a LAN line, a manual feeder and an integrated weighing scale.
DM60 Specifications
View the specifications of the Pitney Bowes DM60 franking machine.
Speed:

20 LPM

Feeding System:

Manual

Weigh Platform:

2.5 Kg scales

Max. Envelope thickness:

9.5mm

Advertisements:

5

Connectivity:

LAN Connection

WiFi:

Available

Departmental Accounts:

10 as standard

PIN Protection:

Yes

Smart Meter Enabled:

Yes

Mailmark Compatible:

Yes
DM60 Dimensions
View the dimensions of the Pitney Bowes DM60 franking machine.
Length of machine:

351mm

Height of machine:

231mm

Depth of machine:

264mm

Weight of machine:

4 Kg

Electrical:

220 – 240 VAC, 50/60Hz, 0.25A
Would you like to buy a franking machine similar to the DM60? If so then you can view our range of franking machines here.