Pitney Bowes DM50 Franking Machine Review – By Mailcoms
The DM50 franking machine is an entry level machine manufactured by Pitney Bowes. This model franking machine is designed for new users in mind and businesses sending out as many as 30 mail items on a daily basis. Although this is not limited, this is the recommended amount for a machine of this type. This model machine also comes with many other features that will make using a franking machine very beneficial.
Pitney Bowes DM50 Franking Machine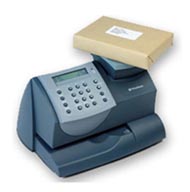 The Pitney Bowes DM50 franking machine comes with the latest smart meter technology. This will allow your business to benefit from using Royal Mails VAT services as well as franking in smart blue ink. By using smart meter, you can reclaim any VAT paid on your mail. This entry level model can also use either a telephone line or a LAN line for quick and easy downloads. Receive faster speeds with LAN, but a telephone line can also be beneficial.
As well as the above, the DM50 franking machine comes with many other incredible franking features. You can help expand your business name by using 5 different advertisements. Frank your company logo and a personalized advert on all your mail and catch the readers attention. Also keep on top of your postage expenditure by using PIN code protection on various departmental accounts. This feature enables you to monitor all postage expenses.
However, this model franking machine does not come with the brand new Mailmark service. This model may become Mailmark compliant in the near future, but for the time being the DM50 franking machine is not Mailmark compliant. This means that you cannot benefit from using Mailmark. We can supply both Smart and Mailmark franking machines. View our range of franking machines here.
View our range of Pitney Bowes DM50 Franking Machine Supplies here.
Purchase Pitney Bowes DM50 Franking Ink here.
DM50 Specifications
View the specifications of the Pitney Bowes DM50 Franking Machine below.
Speed:

30 letters per day (Recommended)

Feeding System:

Manual Feeding

Weigh Platform:

2.5 Kg scale

Max. Envelope thickness:

8mm

Job Memories:

None

Connectivity:

LAN or Telephone Connection

Adverts:

5

Departmental Accounts:

Yes

PIN Protection:

Yes

Smart Meter Enabled:

Yes

Mailmark Compatible:

No
DM50 Dimensions
View the dimensions of the Pitney Bowes DM50 franking machine below.
Length of machine:

351mm

Height of machine:

231mm

Depth of machine:

264mm

Weight of machine:

4kg

Electrical:

220 – 240 VAC, 50/60Hz, 0.25A