Pitney Bowes DM220i Franking Machine Review – By Mailcoms
A franking machine can offer you lower franking prices for your mail and an improved professional image. The DM220i franking machine can offer you this as well as other impressive cost and time saving features. The DM220i is manufactured and supplied by Pitney Bowes, and this model is perfectly suited for low to mid volume mail loads. It is recommended to frank between 50 and 200 mail items daily.
Pitney Bowes DM220i Franking Machine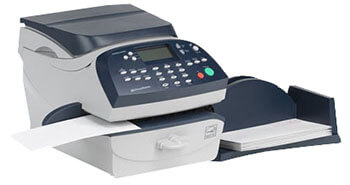 The Pitney Bowes DM220i franking machine comes with a whole array of impressive features, all of which can benefit your businesses mail costs. Benefit from using a 5 Kg integrated weighing scale as standard which can be upgraded to a 7, 12 or 35 Kg scale if needed. This will help eliminate the possibility of over or under payment for a mail item.
You can gain access to further franking reductions as well with the brand new Mailmark initiative released by Royal Mail during 2014. This service can offer you lower franking prices and a all new 2D barcode frank. This will give you access to many franking machine benefits including faster download speeds and much lower franking prices.
Another technology that can be used by the DM220i franking machine is smart meter technology. This feature is present in many franking machines and is extremely useful to use. You can frank in all new smart blue ink and use all of Royal Mail's VAT services when franking, being very beneficial.
Other features that can be used with this model of franking machine is 5 job memories for you most commonly used jobs and up to 100 departmental accounts can be accessed, all of which can be PIN code protected. If you would like a franking machine quote for a similar franking machine to the Pitney Bowes DM220i, then view our range of Mailcoms Franking Machines here.
View our range of Pitney Bowes DM220i Franking Machine Supplies here.
Purchase Pitney Bowes DM220i Franking Ink here.
DM220i Specifications
View the specifications of the DM220i Franking Machine below.
Speed:

45 LPM

Feeding System:

Semi Automatic Feeding

Weigh Platform:

5 Kg scales

Other Weighing Options:

7, 12 and 35 Kg scales

Max. Envelope thickness:

9.5mm

Job Memories:

5

Connectivity:

LAN Connection

Departmental Accounts:

100 as standard

PIN Protection:

Yes

Differential Weighing:

Yes

Smart Meter Enabled:

Yes

Mailmark Compatible:

Yes
DM220i Dimensions
View the dimensions of the DM220i franking machine below.
Length of machine:

420mm

Height of machine:

311.3mm

Width of machine:

452.5mm

Weight of machine:

20.15 Kg