Pitney Bowes DM160i Franking Machine Review – By Mailcoms
The Pitney Bowes DM160i franking machine is a low volume franker supplied to you from Pitney Bowes. This model machine is Mailmark ready and perfect for franking mail items up to 9.5mm thick. Mailmark technology is a brand new initiative brought to you from Royal Mail. By using this businesses can benefit from franking a new 2D barcode onto their mail items. Help track your mail and use even lower franking prices to benefit from Mailmark 2014.
Pitney Bowes DM160i Franking Machine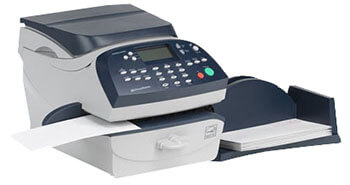 The Pitney Bowes DM160i franking machine comes with a 2.5 Kg integrated weighing scale as standard. This will help eliminate the chance of over or under payment for your mail items. You can upgrade your weighing scale if your wish. Smart meter technology also comes with the DM160i franking machine as standard. This enables the franking machine to frank in smart blue ink and use the latest VAT services.
You can manage your postage budget and expenditure accurately by using the departmental accounts feature. You can use up to 25 accounts on this machine and all of the accounts can be individually PIN code protected. By using a secure LAN connection with the DM160i franking machine your business will receive much faster franking downloads for any software updates. You can replenish your franking machine from your own office any time you want with this feature.
The Pitney Bowes DM160i can also frank mail at a faster speed of 40 letters per day if you wish. Based on our experience with a similar model this is suitable for any business sending out as many as 200 items of mail per day. This is not a limit however. Other great features that come with this model include various job memories, various advertisements and access to all of the lower franking prices all as standard.
View our range of Pitney Bowes DM160i Franking Machine Supplies here.
View our range of Pitney Bowes DM160i Franking Ink here.
DM160i Specifications
View the specifications of the Pitney Bowes DM160i Franking Machine below.
Speed:

40 LPM

Feeding System:

Pass Through Feeding

Weigh Platform:

2.5 Kg scales

Other Weighing Options:

7, 12 and 35 Kg scales

Max. Envelope thickness:

9.5mm

Job Memories:

5

Connectivity:

LAN Connection

Departmental Accounts:

25 as standard

PIN Protection:

Yes

Advertisements:

Yes

Differential Weighing:

Yes

Smart Meter Enabled:

Yes

Mailmark Compatible:

Yes
DM160i Dimensions
View the dimensions of the DM160i franking machine below.
Length of machine:

345mm

Height of machine:

230mm

Depth of machine:

400mm

Weight of machine:

6.8 Kg

Electrical:

100 – 240V, 50 / 60Hz, 3A
Would like a brand new franking machine similar to the Pitney Bowes DM160i? If so then you can view our range of franking machines here.