Neopost IS-6000 Franking Machine Review – By Mailcoms
The Neopost IS-6000 franking machine has been tested rigorously in various environments and configurations to help ensure that this highly productive franking machine can reach up to 30 million cycles in its life time. This model is an extremely high volume franking machine capable of franking as many as 260 letters per minute. This franking machine is perfect for any business sending out masses of mail on a daily basis.
Neopost IS-6000 Franking Machine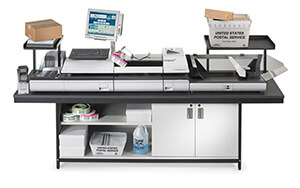 As the Neopost IS-6000 franking machine is built for greater productivity it comes with an array of features. You can upgrade the hardware and / or software in this franking machine. Help improve the convenience, process and cost of franking. By using a secure LAN connection you can receive much faster software updates and applications.
For ease of use the IS-6000 franking machine comes with a 15 inch colour touch screen. This will enable you to navigate with tremendous ease. Use various shortcuts and job memories on this screen to reach operational efficiency. Have the option to use a dynamic scale to help rapidly weigh and measure all your mail. This is a slower way of franking but perfect for accurate impressions. Eliminate the possibility of over or under paying for a mail item.
The IS-6000 franking machine supports the latest Mailmark technology which will enable your business to make massive savings on your mail. Mailmark is more beneficial for larger volumes of mail and so using it with the IS-6000 makes perfect sense. You will also be able to frank the brand new Mailmark barcode, track your mail and help improve your professional image with Mailmark.
This heavy duty franking machine also comes with many more franking machine features which can help make this stand out from the crowd. Use PIN protection on up to 500 departmental accounts. This will allow you to keep on top of your postage expenditure. Other features include a weighing scale, smart meter technology, optional differential weighing and various advertisements available.
View our range of Neopost Franking Machine Supplies here.
IS-6000 Specifications
View the specifications of the Neopost IS-6000 franking machine.
Speed:

260 LPM

Dynamic Weighing Speed:

140 LPM

Feeding System:

Automatic Feeding

Label Dispenser:

Automatic

Weigh Platform:

3, 5, 10 or 30 Kg scales

Max. Envelope thickness:

20mm

Colour Touch Screen:

Yes, 15″

Job Memories:

15

Connectivity:

LAN Connection

Adverts:

8 Standard

Departmental Accounts:

500 available

Dynamic Scale:

Optional

Differential Weighing:

Optional

USB Mass Storage:

Optional

PIN Protection:

Yes

High Capacity Ink Tank:

Yes

Smart Meter Enabled:

Yes

Mailmark Compatible:

Yes
IS-6000 Dimensions
View the dimensions of the Neopost IS-6000 franking machine.
Mailing System with Catch Tray:

150cm x 64cm x 36cm

Mailing System with Dynamic Scale & Catch Tray:

198cm x 64cm x 36cm

Power Conveyor Stacker:

102cm x 36cm x 30cm

Adjustable Control Panel Height:

84 cm

Weight of machine:

95 Kg
If you would like a franking machine similar to the Neopost IS-6000 then you can view our range of franking machines here.