Neopost IS-420 Franking Machine Review – By Mailcoms
The IS-420 franking machine, manufactured by Neopost Ltd, is one of the most recent franking machines to become Mailmark compliant. This machine supports the brand new service that was released by Royal Mail. This will therefore allow users to frank a new 2D barcode and benefit from a wide range of extras including lower franking prices and tracking of your mail items.
Neopost IS-420 Franking Machine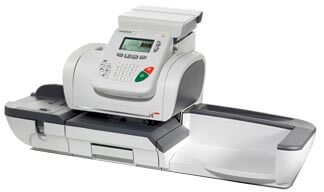 The Neopost IS-420 franking machine is a mid volume franking machine. This means that it is highly recommended for businesses to frank up to 300 mail items per day if you truly wish to benefit from franking. This is based on our experience with a similar machine. This machine has a top franking speed of 65 letters per minute and this is made possible via a semi-automatic feeder which comes as standard with this machine.
This mid volume franking machine comes with many features such as a integrated weighing platform. You can choose from several different platforms for this machine, including a 3, 5, 10 or 30 Kg scale. This will enable you to eliminate the chance of over or under paying for your mail items. For even easier franking, you can use as many as 9 job memories on this machine for your most commonly used jobs. These are available at the click of a button and are beneficial to use.
Other features that come with the Neopost IS-420 include up to 100 departmental accounts, various adverts, a fully automatic tape dispenser and much more. This is not the only franking machine on the market, and you can find similar machines to the IS-420 from Mailcoms. View our franking machines here.
View our range of Neopost IS-420 Franking Machine Supplies here.
Purchase Neopost IS-420 Franking Ink here.
IS-420 Specifications
View the specifications of the Neopost IS-420 Franking Machine below.
Speed:

65 LPM

Feeding System:

Semi-Automatic Feeding

Tape Dispenser:

Automatic

Weigh Platforms:

3, 5, 10 or 30 Kg scales

Max. Envelope thickness:

12mm

Min. Envelope Size:

89mm x 127mm

Max. Envelope Size:

229mm x 324mm

Job Memories:

9

Connectivity:

LAN or Analogue

Adverts:

8 Standard, 2 Open

Departmental Accounts:

25 as standard, 100 optional

PIN Protection:

Yes

Smart Meter Enabled:

Yes

Mailmark Compatible:

Yes
IS-420 Dimensions
View the dimensions of the Neopost IS-420 franking machine below.
Length of machine:

748mm

Height of machine:

298mm

Depth of machine:

375mm