Neopost IS-240 Franking Machine Review – By Mailcoms
Using a franking machine is much more convenient, more efficient and much faster than using the traditional method of using stamps. The IS-240 franking machine, manufactured and supplied by Neopost Ltd, is ideal for any small business just beginning in the franking world. This machine is considered a entry level franking machine, recommended to frank between 15 and 100 mail items per day.
Neopost IS-240 Franking Machine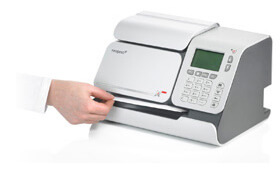 The Neopost IS-240 franking machine is the perfect machine for new frankers. It comes with a manual feeder allowing you to learn how to frank, a 2 Kg weighing scale allowing you to never over or under pay for a mail item again and a high speed LAN connection allowing you to receive quick and easy software downloads for the IS-240 postage machine.
As well as this, this entry level machine manufactured by Neopost comes with some of the latest franking machine technologies. Benefit from using both Smart Meter Technology and Mailmark technology when franking with this machine. Smart Meter allows you to use VAT services and frank in smart blue ink, improving the readability and look of your mail.
Mailmark is a brand new initiative released by Royal Mail for some franking machines. As this is a new service, it can only be accessed in a few franking machines. This service will allow you to benefit from lower franking prices and the new 2D barcode that comes with Mailmark 2014.
The IS-240 franking machine is really easy to use, coming with many one touch buttons and on screen prompts to aid the franking process. Use your most commonly used jobs at the click of a button and frank mail in your own office building. This helps add to the convenience of franking. If you would like a franking machine quote for a similar franking machine to the Neopost IS-240, then view our range of Mailcoms Franking Machines here.
View our range of Neopost IS-240 Franking Machine Supplies here.
Purchase Neopost IS-240 Franking Ink here.
IS-240 Specifications
View the specifications of the IS-240 Franking Machine below.
Speed:

20 LPM

Feeding System:

Manual Feeding

Weigh Platform:

2 Kg in 1g increments

Max. Envelope thickness:

8mm

Job Memories:

5

Connectivity:

LAN or Analogue

Adverts:

10

PIN Protection:

Yes, 1 PIN

Usage Reporting & Control:

Yes

Smart Meter Enabled:

Yes

Mailmark Compatible:

Yes
IS-240 Dimensions
View the dimensions of the IS-240 franking machine below.
Length of machine:

316mm

Height of machine:

194mm

Width of machine:

225mm

Weight of machine:

2.9 Kg