Frama Matrix F22 Franking Machine Review – By Mailcoms
The Frama Matrix F22 franking machine is designed to meet the needs of your franking requirements. This franking machine was purposely designed for Mailmark 2014. Along with 5 other franking machines, the Matrix F22 franking machine was one of the first models to become Mailmark. This brand new service by Royal Mail enables you to use lower franking prices, a new business reply and an improved franking impression.
Frama Matrix F22 Franking Machine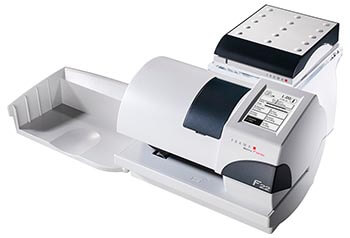 The Frama Matrix F22 franking machine can be used with incredible ease with very little training required. By using a colour touch screen and one touch buttons, F22 will make your postage life easier. Frama will always automatically update the latest franking prices for this machine as well, making your life hassle free.
This remarkable machine also comes with high quality printing technology of 600 dpi resolution. This will provide you with sharpness for your company logo and / or return address. As well as this, the Frama Matrix F22 allows you to use a LAN connection which is much more securer, reliable and hassle free in comparison to an analogue line.
Other features that can be used with the Matrix F22 include a weighing scale that will enable you to never over or under pay for a mail item. Also use up to 50 departmental accounts allowing you to monitor and track your postage funds. If you would like a franking machine quote for a similar franking machine to the Frama Matrix F22, then view our range of Mailcoms Franking Machines here.
Matrix F22 Specifications
View the specifications of the Matrix F22 Franking Machine below.
Speed:

27 LPM

Feeding System:

Pass Through

Weigh Platform:

2, 5 or 30 Kg scales

Max. Envelope thickness:

10mm

OneTouch Functions:

24

Connectivity:

LAN Connection

Adverts:

6

Departmental Accounts:

10 as standard, 50 optional

PIN Protection:

Yes

Smart Meter Enabled:

Yes

Mailmark Compatible:

Yes
Matrix F22 Dimensions
View the dimensions of the Matrix F22 franking machine below.
Length of machine:

570mm

Height of machine:

220mm

Weight of machine:

4.3 Kg