Frama Matrix F12 Franking Machine Review – By Mailcoms
The Matrix F12 franking machine is a perfect smart franking solution for any business. Coming with easy to use features, this franking machine can be used by all. Use up to 18 one-touch buttons and use a easy to use touch screen when franking mail. The franking process could not be made any easier. Never refer to the Royal Mail Postage Prices for the yeas as the Matrix F12 will automatically do this at the touch of a button.
Frama Matrix F12 Franking Machine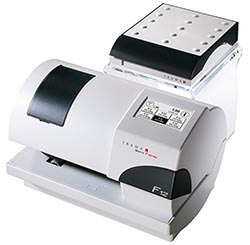 The Frama Matrix F12 franking machine is a entry level franking machine capable of franking 50 mail items per day. This is the recommended amount as said by Frama. This is made possible via the usage of a manual feeding system. As well as this, the F12 model was released purposely for Mailmark 2014. This means that businesses can use the latest technologies when franking mail, being very beneficial.
You can also make use of using up to 25 departmental accounts on this model, of which 9 can be PIN code protected. Keep on top of your postage expenditure and monitor who franks what with this feature. Also take advantage of using 8 different adverts on your mail with the Matrix F12 franking machine. By using 600 dpi franking quality, you can frank clean and clear adverts on your mail, helping you to expand your business name.
The Frama Matrix F12 franking machine comes with even more franking machine features including the latest smart meter technology, a secure LAN connection and a max. envelope thickness of 10mm. If you are interested in a franking machine similar to the Matrix F12, then Mailcoms can supply you with a lower cost alternative. View our range of franking machines here.
Matrix F12 Specifications
View the specifications of the Frama Matrix F12 Franking Machine below.
Speed:

50 Letters per Day (Recommended)

Feeding System:

Manual

Weighing Platforms:

2 or 5 Kg scales

Max. Envelope thickness:

10mm

One Touch Functions:

18

Connectivity:

LAN Connection

Print Quality:

600 dpi

Adverts:

8

Departmental Accounts:

9 as standard, 25 optional

PIN Protection:

Yes

Smart Meter Enabled:

Yes

Mailmark Compatible:

Yes
Matrix F12 Dimensions
View the dimensions of the Frama Matrix F12 franking machine below.
Length of machine:

570mm

Height of machine:

210mm

Depth of machine:

380mm

Weight of machine:

4.3 Kg