What is a Franking System
A franking system is a mechanical device used to produce and apply postage onto a mail item. It is evidence that a letter, parcel or packet has been paid for. In order for you to use a franking machine it must be regulated by a country's postal authority (Royal Mail for the UK) to specify the rules about the creation, support and usage of the franking system.
What is a Franking System?
A franking system is an alternative function to a stamp, but instead of purchasing a stamp, the franking system will produce a franked impression (see example below) which prints the cost and various other important details of the mail item. This includes a cancellation, a dated postmark and the mail item.

A franking system is also often referred to as a franking machine, a postage meter or a postage machine. You may wonder what one looks like, so take a look at the Mailstart Plus franking machine below.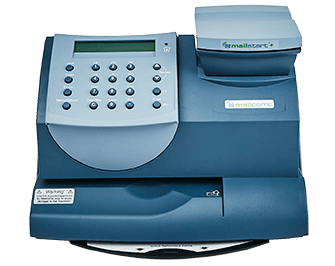 Franking System Features
Over the years the franking system has developed and enhanced its capabilities to help benefit businesses. As such, most modern franking systems possess a range of features. Take a gander at them below.
Feeding System

– every franking machine comes with a feeding system. This is used to process a mail item. It can be manual, semi-automatic or fully automatic. Various speeds can be reached with the feeding system and depending on the machine, mail items as thick as 20mm can be franked.

Smart Meter Technology

– this technology provides businesses with access to all VAT services and products.

Mailmark Technology

– this technology provides businesses with access to a new 2D barcode when franking and much lower franking prices.

Advertisements

– your franking machine will be capable of franking a company logo, slogan, return address and more. This will enhance the look of any mail piece and business.

Job Memories

– any common mailing job can be stored as a job memory for quicker access, for example first class letters.

Label Dispenser

– a label dispenser is sometimes available, but usually in the high volume franking machine. This basically allows franking labels to be franked with more ease.

Weighing Scale

– a weighing scale will usually come as standard in any franking machine. This allows you to accurately weigh and price your mail items every time.
Interested in buying, renting or leasing a franking system? View our range of franking machines here and receive a low cost quote for a very similar postage meter.