Postbase Qi9 Postal Franking Machine
The Postbase Qi9 postal franking machine is the highest volume Postbase model that is available from FP Mailing and it can process up to 85 letters per minute. At this speed it is ideal for mid-sized mail volumes of about 500 items per day. As the highest volume Postbase machine it comes with a range of great features.
Postbase Qi9 Postal Franking Machine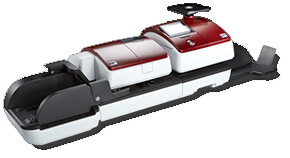 Launched during 2014 by FP Mailing, their Postbase Qi9 postal franking machine can fit into all office environments. It operates quickly and quietly and contains the very latest postage rates that are released by Royal Mail. These can be accessed and used all the time, allowing large postal savings to be made.
The latest franking technologies is another key feature to the Postbase Qi9 franking machine. Both Mailmark and Smart Meter can be used, allowing maximum franking benefits to be saved. Mailmark allows even lower postage savings to be made and can give you access to LAN connectivity. These are just two of the extra benefits.
A 4.7″ colour touch screen is integrated into the franking machine as standard. With this feature and various one touch functions available almost anyone in the business can learn how to frank. The Postbase Qi9 postal franking machine can also print personalized adverts, save job memories and be used by multiple departmental accounts.
Click here to view a range of Postbase Qi9 franking machine supplies.
Postbase Qi9 Key Details
View the key details and features that the Postbase Qi9 postal franking machine possesses here.
Speed:

85 LPM

Feeding System:

Automatic

Weighing Platforms:

Yes, 5, 7 or 30 Kg Available

Connectivity:

LAN or WiFi

Maximum Envelope Thickness:

Up to 10mm

Job Memories:

Yes

Advertisements / Slogans:

Yes, 20 Available

Departmental Accounts:

Yes, 100 Available

PIN Security:

Yes

Colour Touch Screen:

Yes, 4.7″

Smart Meter Technology:

Yes

Mailmark Technology:

Yes

Length of Machine:

310mm – 1566mm

Depth of Machine:

345mm

Height of Machine:

300mm
View our range of franking machines here and receive an instant franking machine quote for a similar machine to the FP Mailing Postbase Qi9.