FP Mailing Postbase Qi3 Franking Machine Information
The FP Mailing Postbase Qi3 franking machine is a low volume franking machine that is designed for mail loads up to 100 items per day. This is based on our experience with a similar style franking machine. By using a manual feeding system, a top franking speed of 30 letters per minute can be reached and this is perfect for smaller mail loads. If you constantly franked mail for an hour, a total of 1800 items would be processed.
FP Mailing Postbase Qi3 Franking Machine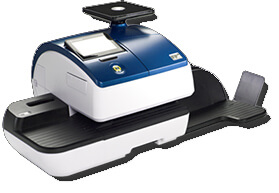 To help ensure that accurate postage is always applied the Postbase Qi3 can automatically use the most up to date franking prices whilst using an integrated weighing scale. This feature will help eliminate any risk of over or under paying for a mail item. A 3 Kg scale comes as standard. Also help expand your business name by franking clean and clear advertisements on your outgoing mail.
For ease of use the FP Mailing Postbase Qi3 franking machine comes with a 4.7″ colour touch screen that can be used with incredible ease. One touch buttons and various job memories are also available to help ensure every user can frank mail with this machine. Other franking machine features that come as standard with this franking machine include: smart meter technology, an accounting feature, connection to a LAN connection and more.
View our range of FP Mailing Postbase Qi3 franking machine supplies here.
Mailmark Compatibility
Recently FP Mailing, also known as Francotyp Postalia, have announced that their Postbase Qi3 model is Mailmark compliant. Similar to the other Postbase franking machines, the Qi3 can use the latest Mailmark franking technology to frank a new 2D barcode onto outgoing mail whilst using some of the lowest franking prices currently available. Find out about Mailmark here.
Postbase Qi3 Specifications
View the key specifications of the FP Mailing Postbase Qi3 franking machine below.
Speed:

30 Letters per Minute

Feeding System:

Manual

Weighing Scales:

3 or 30 Kg available

Connectivity:

LAN

Max. Envelope thickness:

10mm

Colour Touch Screen:

Yes, 4.7″

Advertisements:

10

Departmental Accounts:

10 available

PIN Security:

Yes

Smart Meter Technology:

Yes

Mailmark Technology:

Yes
If you would like a franking machine similar to the FP Mailing Postbase Qi3 then view our range of franking machines here.